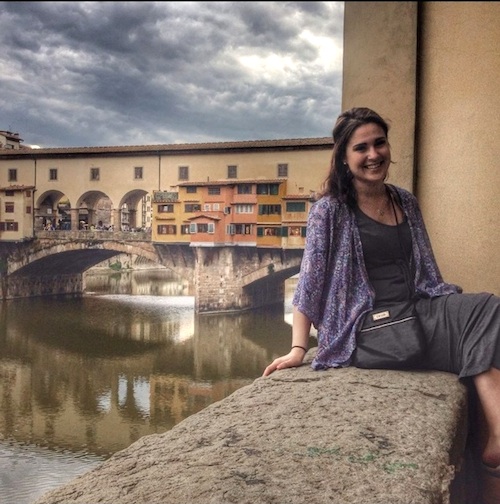 It is one thing to view the amazing sites I have laid my eyes on through textbooks all my life, and it is another to view these things right before me. I have never in my life felt so welcomed into a place, and I took a complete dive right into the culture. The first week alone I have picked up so much Italian that it will be hard to speak only English back at home! The food is phenomenal, and  of every dish I taste I take a photo to send back to loved ones. Walking the streets of Firenze is magical both day and night, and I feel blessed to be here for this summer program.
Lindsay Laviero, University of Connecticut
I arrived in Florence filled with nervousness and excitement. I am in a brand new country and city, don't know a word of Italian or understand Italian culture. It was slightly overwhelming. I spent my first day getting lost for hours in a park, but I found it quite relaxing. I noticed an enormous difference in the European lifestyle. Florentines have picnics together, enjoy the day, and take life in stride. Living in the moment together, instead of staring into their phones, iPads or laptops like most Americans. Life seems to move at a slower pace, allowing individuals to soak in the moment, instead of constantly being rushed to the next event. People seem to take the time to appreciate the beauty that engulfs Florence and the country of Italy. Thanks to The Villa and the Garden class at ISI, much of that essence is captured. I am passionate about history, and Florence satisfies my thirst for knowledge and continues to flood my senses with brand new ideas and experiences. After a short time, I am already feeling at home in the historically rich city of Florence.
Maxwell Schmidt, Arizona State University