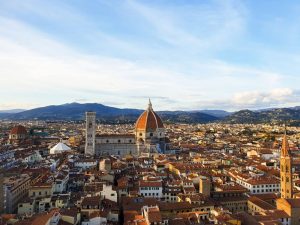 Whether you are an interested student, current partner, a potential affiliate or just curious about the Institute, we welcome visitors. And as a current ISI Florence partner, when your students ask for more information on the International Studies Institute, they are going to want all the details.
What better way for you to discover all that Florence and the Institute have to offer than experiencing it in person? Representatives of U.S. colleges, universities, and other institutions of higher education, as well as students, parents, and faculty, are always welcome. If you are interested in planning a visit, please contact us in advance so that we may arrange a tour of the facilities and time to meet with you to answer any questions.
If you happen to be traveling in Italy, we encourage you to stop by Florence and discover the exceptional programs we offer along with the stunning Tuscan landscape.
Contact us by email at [email protected] or call the Institute at (+39) 055-264-5910 to arrange a visit. Let us welcome you to Florence!