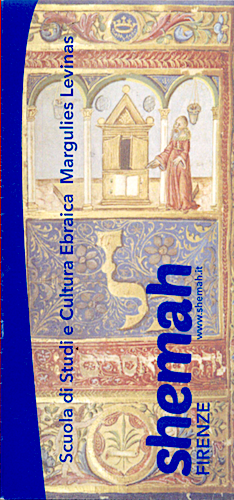 In collaboration with ISI Florence, for almost a year now Shemah has been offering courses on a variety of topics concerning Jewish culture, such as language, literature, music, philosophy, and tradition. The new series of lessons began in mid-March with the following classes: 'Introduction to Jewish Culture: The Fundamental Texts – Bible, Midrash, Aggada, and Kabbalah', 'Women and Judaism', 'The Hebrew Language', and an intense seminar on 'Jewish Cinema and its Development'.
In addition to its regular courses, this Spring Semester Shemah has launched 'La Parola e la Modernità: Percorsi di Cultura Ebraica', a special series of three free lectures each held in a different Florentine venue. This project is sponsored in collaboration with the following institutions: Biblioteca Nazionale Centrale di Firenze, Istituto Nazionale di Studi sul Rinascimento, the Maimonides Centre for Advanced Studies at the University of Hamburg and – again – ISI Florence.
The first talk of this series took place on March 6 at the Biblioteca Nazionale Centrale di Firenze. Fabrizio Lelli (Professor of Jewish Language and Literature at the Università del Salento) lectured on the works of the renowned Israeli writer Amos Oz, who passed away on December 28, 2018.
Then, on April 4, the Istituto Nazionale di Studi sul Rinascimento at Palazzo Strozzi hosted the presentation of Guido Bartolucci's book on Renaissance philosophy and the Jewish tradition titled "Vera Religio. Marsilio Ficino e la tradizione ebraica" (published by Libreria Claudiana in 2018). Together with the author, the book was presented by Giuseppe Veltri, Michele Ciliberto, and Joseph Levi.
The lectures series will end on June 19 at the Biblioteca delle Oblate with a talk on Jewish music by musician and musicologist Enrico Fink.
For further information, contact Shemah:
Tel. +39-349-560-8385
Email: [email protected]
Website: www.shemah.it
Professor Shulamit Levi Furstenberg, Ph.D.
ISI Florence