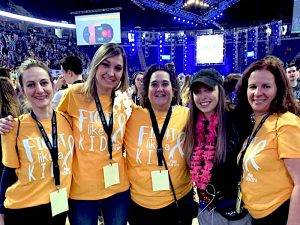 ISI Florence staff members Irene Schiatti (Special Programs Coordinator) and Christina Infantino (Coordinator for Student Services and Communication) were honored to participate in the Penn State THON weekend (February 15-20, 2019), the largest student-run fundraising event in the world.  Our special chaperons, who we wish to thank profusely for their warm welcome, were Prof. Robin Yaure and Prof. Robyn Chotiner (Penn State Human Development and Family Studies program). They kindly led us through the full schedule of events and meetings.
ABOUT THON
THON™ is a student-run philanthropic association committed to enhancing the lives of children and families impacted by childhood cancer. Their mission is to provide emotional and financial support, spread awareness, and ensure funding for critical research – all in pursuit of a cure. The yearlong preparation culminates into a 46-hour dance marathon … This year more than $10.6 million was raised! Since 1977, THON partnered with Four Diamonds at the Penn State Hershey Children's Hospital, and designated Four Diamonds as the sole beneficiary of Thon's fundraising efforts. Four Diamonds's mission is to conquer childhood cancer by assisting children treated at Hershey Children's Hospital. To date, THON has raised more than $146 million to benefit Four Diamonds. (source: THON website)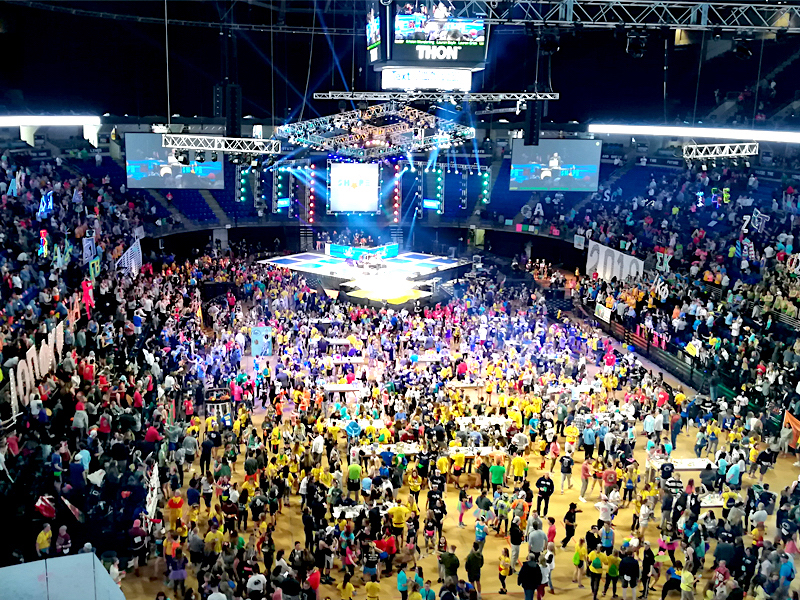 The aim of the ISI Florence visit was to reach out to the THON organizers, Penn State students, staff members, and faculty involved in this massive event in order to gather ideas and suggestions for our proposal for the realization of a smaller version of THON in Florence during the Spring of 2020. We'd love to host a Florence-based fundraising event led and organized by PSU study abroad students, in collaboration with the Florence Meyer Children's Hospital. We are looking at ways to further our students' commitment to enhance their study abroad experience, fostering a sense of worldwide belonging and shared values. We'll do our best to create a unique event while strengthening students' engagement with the local community.  The Summer PSU HDFS program at ISI Florence will be at the forefront of the organizational committees.
We participated in the Four Diamonds Mini-THON® Outreach Event on Saturday, February 16. This gave us the opportunity to understand how these small-scale fundraising events are held throughout the year in elementary schools, middle schools, high schools, and colleges in eight states and are modeled after the Penn State IFC/Panhellenic Dance Marathon (THON). In the afternoon, the ISI Florence – HDFS cohort enjoyed a behind-the-scenes tour of the PSU Bryce Jordan Center, the event location. We engaged in conversation with students both on the stands and on the floor – the dancers! We soon discovered that the seven-hundred-plus dancers on the floor are the ones who stand for 46-hours and they don't actually dance. In order to participate as a dancer, a student must raise a minimum amount of money (we are talking about $50,000 and above, each), either individually or as a group, with his/her student organization.  The stands see the alternation of each dancer's supporting team, friends and family, who stay along cheering, singing, chatting, and playing for several hours a time. They too never take a seat while inside the arena.  The broad stage is where the entertainment takes place: singers, choreographies, the Line Dance group (a 5-minute stretching routine played every hour to encourage the dancers to move and stretch), stage acts and speakers, kids' talent shows, athlete hour and pep rally … the aim of it all is to maintain energy and excitement throughout the 46-hours!
The following days saw the succession of meetings, which proved both interesting and a source of inspiration for the ISI Florence staff.  On Monday, February 18 we were received by the Global Programs Faculty-Led team, namely Kate Manni (Assistant Director), Micah Parrish, and Ashley Wang (Program Assistants), followed by lunch with Dr. Kristi Wormhoudt (Associate Director of Education Abroad) and Jamie Weaver (Education Abroad Advisor).  Later on that day, we met with the Smeal College of Business Office of International Programs – Dr. Jeff Sharp (Associate Dean), Ellie Labrin and Maureen Desorcie, to discuss the upcoming Summer Business programs at ISI Florence.  Additionally, the Global Affairs team managed to set up a meeting with the Global Programs Student Engagement and Intercultural Learning team. Dr. Lauren Halberstadt gave us an overview on student organizations, leadership experiences, and intercultural exchange opportunities.   Our last meeting, just hours before boarding the return flight, was scheduled with Darcy Rameker, Director of Student Engagement Programs. Although she had been deeply involved in the Thon weekend until oddly hours of the morning, Darcy found the time and enthusiasm to tell us more about Thon and the organizational structure of it, giving us a new insights into student engagement while on home campus.
We return to ISI Florence with a bag full of the warm welcomes we received, of new ideas from the successful meetings we had, and moreover, pure excitement for the challenging project we wish to share with our Penn State partner!
Christina Infantino and Irene Schiatti 
ISI Florence