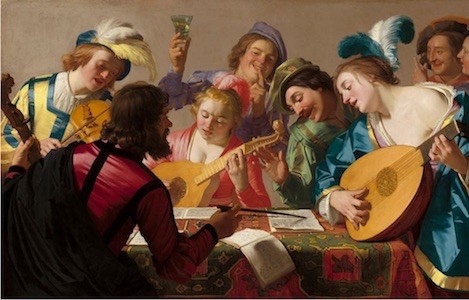 On May 5-7, 2017 Palazzo Rucellai hosted the successful Masterclass led by Maestro Gianluca Lastraioli. Conducted in collaboration with soprano Patrizia Vaccari (professor of Baroque and Renaissance singing), the course focused on the performance of Italian Madrigals and the use of 'Basso Continuo' for lute, theorbo, and Baroque guitar. Professor Vaccari's group of over fifteen Italian and international students greatly contributed to the success of this class.
Maesto Lastraioli and Professor Vaccari held two separate morning sessions. While the singing class participants were accompanied by keyboard during their individual exercises, the musicians analyzed the Continuo scores and performed on a variety of instruments, including Renaissance and Baroque lutes, archlutes, theorboes, and the 'viola da gamba'. The afternoon culminated in a magnificent vocal and instrumental ensemble by both groups in the grand hall of Palazzo Rucellai. The selected pieces ranged from Dowland, Morley, Caccini, and Bottegari, among others, and even included a most enjoyed XXI century madrigal, 'Want To Hold Your Hand', where the notes of the Liverpool fab four were arranged by Maesto Lastraioli for Continuo and vocals.
This 'musical miracle' performance was made possible by Maestro Lastraioli and his unsurpassed competence and contagious enthusiasm, which infused a sense of discipline, rhythm and harmony into the student musicians. The event filled the rooms of Palazzo Rucellai with joyful instruments and voices, evocating harmonies from the Renaissance to the best hits of our time.