Intercultural Communication Course Blog
Authors: Samantha DeBellonia (Rutgers University), Julie Niederberger (Penn State), Rachel Petraglia (Penn State), Carly Wagner 
(Penn State)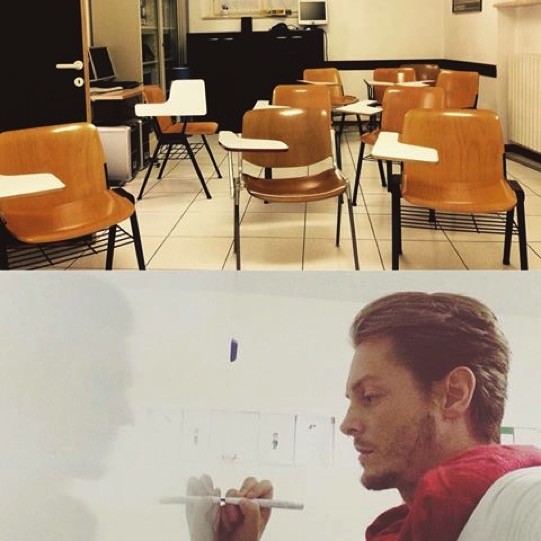 Part of adapting and being part of Italian culture for the next four months is being able to understand the way of life and the people that surround us on a daily basis. Alessio Lo Baido is a perfect example of an Italian citizen who truly embodies the culture we experience every day. Alessio was born and raised in Florence Italy with his family. Since he was a young boy he has always known that he wanted to pursue his dream of becoming an Italian professor. Alessio went to college to receive his bachelor's degree in Siena. In order to further his education, he decided to complete his master's degree in Perugia. Having spent many years in school, Alessio immediately began his career after the completion of his degrees.
Aside from traveling throughout Italy for education, Alessio also travelled and taught within different countries as well. Alessio taught Italian abroad in Mexico, Ukraine and Russia. Today he has spent the last four years teaching Italian in Florence. Alessio's passion for his culture and language sparked his desire to become an Italian professor. Although, he did acknowledge that his role as a teacher doesn't have much of an impact in the world of business, but rather an impact on the style of life. Sharing with others and seeing the change and impact his guidance has on students is one of the main reasons he became a teacher.
Through Alessio's experience as a professor, and especially in the different countries in which he has taught, he has been able to grasp the key differences that take place in the various environments. He found that his role as a professor teaching American students in Italy is more strictly an instructor transferring knowledge to the students. As for abroad, he found that his role was more diverse. A mentor, a friend and a professor all in one; providing information, but also guidance, in everyday life. Focusing more on the experience of study abroad students, Alessio mentioned that while inside a classroom of all American students, it is easy to see that they are used to a more relaxed, comfortable atmosphere from their home professors. It is also clear that American students are more accustomed to a lecture-based classroom setting, whereas in the Italian culture students are expected to be more interactive and participate.
Interviewing Alessio Lo Baido was a very informative experience. Understanding the point of view of not only an Italian citizen but a professor of American study abroad students allowed us to have a better understanding of how both cultures interact with one another.