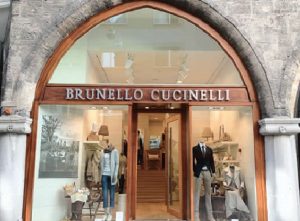 Fashion and innovation go hand-in-hand in Italy, in Tuscany as well as in the neighboring region of Umbria. Recently, Villanova's Professor Luca Cottini released a podcast that discusses the designer Brunello Cucinelli – discussing the correlation between identity and landscapes while explaining the company's approach to "dignity and the meaning of work".
Cucinelli is an industry innovator who regularly emphasizes the importance of ethical capitalism and a business culture that supports work-life balance. As Dr. Cottini mentions, he provides all of his workers with a 90-minute lunch break and doesn't allow his workers to work more than 8 hours per day. He places emphasis on human interaction, encouraging personal connection over electronic communication. He believes that culture is what inspires workers, emphasizing creativity as "a key element giving meaning and dignity to work". To encourage this ideal among his workers, he gives them a "culture bonus" that can be used to go to the theater, concerts, and similar cultural events so that they can be inspired by forms of art and literature.
To learn more about the work of Brunello Cucinelli and the business model he advocates, check out Dr. Cottini's podcast titled Brunello Cucinelli. Philosophizing Fashion. On Business, Culture, and Ethics.  
You can listen to the podcast on:
Spreaker
YouTube
Spotify
Visit www.italianinnovators.com for more valuable lessons on Italian innovation and business culture.