Insights from Trinity College Economics Majors on Comparative Urban Development and Studying Abroad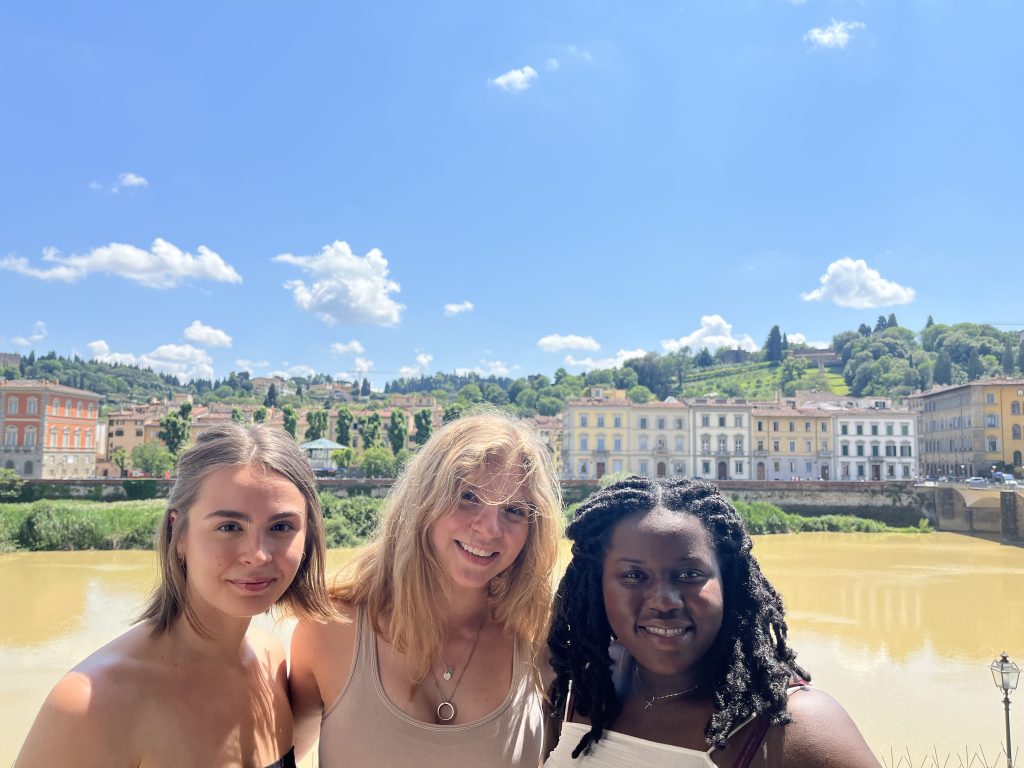 Annika Dyczkowski, Tiara Ogunsanya, and Una Banjalic, all three majors in Economics from Trinity College, recently completed the summer 2023 course called ECON 358: Comparative Urban Development in Italy, team-taught by Professor Carol Clark and Professor Diane Zannoni. The three were extremely enthusiastic about the program and their time with the ISI Florence staff, from May 18th – June 9th, 2023. As their story was incredibly compelling and their genuine excitement made the team at ISI feel a twinge of envy for their remarkable adventures, we wanted to share their description of their time abroad.
"I chose Italy and this program because it was only my second time abroad, so the concept of leaving the US and visiting a completely different country was interesting to me," explained Tiara. Also, being a 3-week program abroad, it worked well as a nice sample of the experience of living abroad without the full commitment. This way Tiara was able to see if it would be something that she could pursue for a whole semester. When asked at the end if she felt she may pursue a semester of study abroad, the answer was an enthusiastic "Absolutely!". She will look into studying abroad in Spain for a whole semester and hopefully, she remarked, her experience will be an example to the rest of her family, her younger brother first of all.
Tiara told ISI Florence that she enjoyed many trips with the class and on her own in Italy. On the first Sunday, she took a train, along with Una and Annika, to Pisa, navigating the Italian train system and other transportation, which she described as easy and intuitive. In fact, Tiara arrived in Florence a day before the official start of the program and she was astonished at how simple it had been for her to find a hotel for herself, use public transportation, and move around town on her own. "It made me more confident in my abilities to navigate a new environment and new situations. It also enhanced my ability to make friends and collaborate with people: I didn't really know anybody before coming to Italy, and I feel like I made very good friends while here," shared Tiara when describing how this experience had helped her grow.
Una, on the other hand, explained what the program was about and why she chose it. All the students in the course were Economics majors (it was a requirement of the course) – the course explored the development of cities in Italy, starting from pre-history all the way to the Renaissance all through the lens of economics. She enjoyed walking around Florence to understand the architecture and the culture. "I feel like I experienced double culture shock," said Una who is originally from Serbia where she described the culture of personal space to be more in line with what she found in Italy. "First I experienced it studying abroad at Trinity College and learning how Americans define personal space and in Italy I had somewhat reverse culture shock from the US to Italy."
"Personally, I feel like a more rounded person," reflected Annika as she commented on the course being based on economics but also touching on different areas, like architecture, art, history, and Italian culture. She felt that the program helped her not only better understand Italy's history but, interestingly, also religion. "I'm not religious but this class helped me gain a better understanding of Catholicism and religion in general," she noted, referencing that some members of her family are Christian. "The knowledge that I gained here will make it easier to talk to them about certain topics that I knew nothing about before." This was only one example she shared as to how she felt the course helped her become more open-minded and aware of different viewpoints and backgrounds, informed by the broader context of an individual and the society in which they live.
All three students agreed that one of their favorite activities in the program was the cooking class in the countryside of Monterspertoli. They felt that the location catered to their love of cooking but was also welcoming and warm. There, they created many culinary masterpieces: ravioli, gnocchi, risotto, baked chicken, and tiramisu. "We don't have field trips at our home university, except maybe to the occasional museum," Annika commented. The group also talked about how supportive and integral to their experience the ISI Florence staff was. "Francesca was so welcoming and gave us so many ideas of places to visit," Tiara and Una echoed each other in this when talking about the student services available as part of the program.
To wrap up their thoughts on the program, Tiara shared that it truly inspired her to take on a global perspective and consider a career that allows her to connect with people globally. Una then added, "I think leaving home is a really good 'school' as it teaches you to be more independent and to learn from yourself, your capabilities but also your limitations." Tiara, Una, and Annika all hope that their experiences can serve as inspiration for future students to seek to become global citizens with an appreciation for diverse perspectives and cultures.
***
Interested in learning more about study abroad opportunities in Italy? Visit the International Studies Institute admissions website: www.isiabroad.org or email [email protected]