Normally, students abroad may pay a visit to the US Consulate for bureaucratic matters like replacing a lost passport or other citizens' services. However, on November 8th, four Bryn Mawr students studying abroad at ISI Florence, Italy had the chance to meet the new Consul General Daniela Ballard, herself an alumna of Bryn Mawr, class of 1990.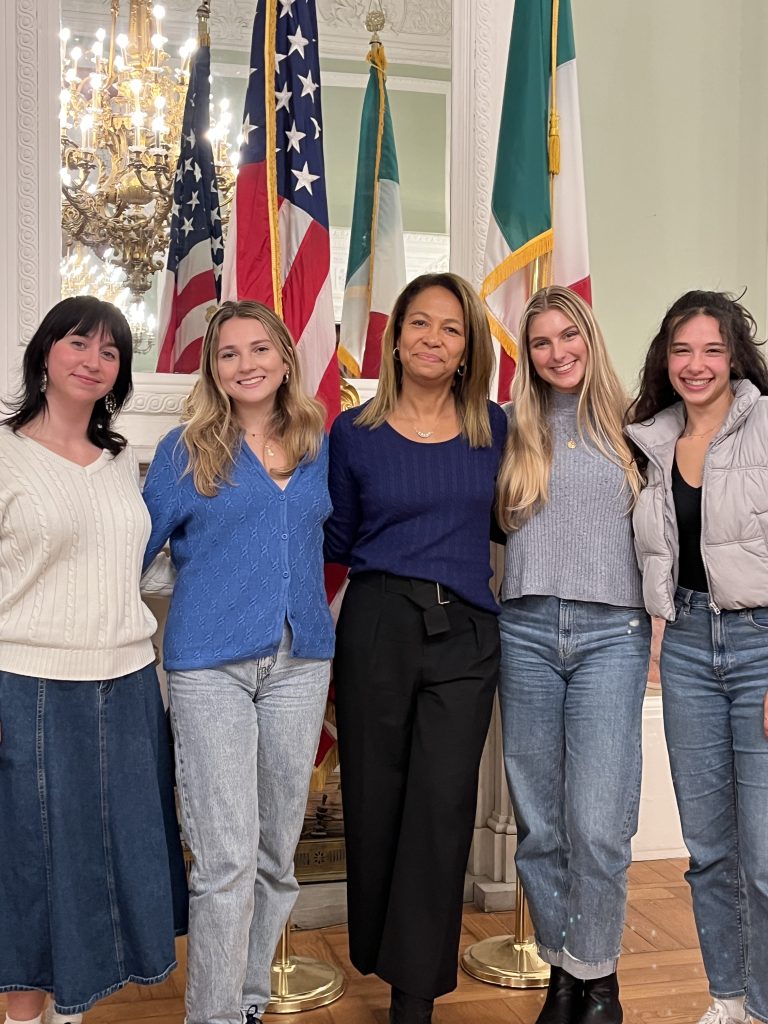 The four students, Lillian Belzer, Sofia Cirone, Lauren Kitay, and Norah Rivett, joined Daniela for an informal chat. They covered many aspects ranging from life as a student abroad, life at Bryn Mawr, and likes and dislikes of studying in Florence. Daniela also told the four young women about her time at Bryn Mawr and how her various post-grad studies and career moves eventually led to joining the Foreign Service where she has served for the past twenty years. This special session offered a glimpse into the professional journey and insights of a fellow alumna and to explore the career opportunities their education and international experiences can offer.
ISI Florence, alongside the participating students, extends heartfelt thanks to Ms. Ballard for sharing her valuable time and experiences, thereby enhancing the consulate's engagement with American students abroad and inspiring the next generation of global leaders.
Biography of Daniela Ballard:
Daniela Ballard, the U.S. Consul General to Florence, joined the State Department in 2004. She has served abroad in Pakistan, Brazil, and the Dominican Republic, and within the Economic Bureau, the Bureau of International Organizations, and the Foreign Service Institute. More recently, she held the role of Deputy Office Director for the European Office's EU and Regional Affairs, providing economic policy analysis and advice. She was also a foreign policy fellow in Senator Christopher Coons' office.
Before joining the State Department, Daniela worked as an investment banker in New York and San Francisco for Salomon Smith Barney and Bank of America Securities. She earned a Master of Science in National Security Strategy from the National War College in 2019. She also graduated from the Wharton School at the University of Pennsylvania with an MBA in Finance and a Master of Arts in International Studies from the University of Pennsylvania. She graduated magna cum laude from Bryn Mawr College with a degree in Economics.
Short history of the US Consulate in Florence:
The American diplomatic presence in Florence has a rich history dating back two centuries, making it the second oldest continuous U.S. diplomatic establishment in Italy, after Naples. Initially, the Grand Dukes of Tuscany were hesitant to establish full diplomatic relations with the United States, but Thomas Appleton, a friend of Thomas Jefferson, assigned Giacomo Ombrosi to represent U.S. interests in Florence in 1819 on his own authority. Despite not receiving official recognition, Ombrosi laid the foundation for two centuries of fruitful collaboration. The consulate has since been presided over by 46 principal officers from at least eight buildings around Florence. There was a period when it was closed during World War II, but it reopened shortly after the Liberation of Florence and moved to its current location at Palazzo Calcagnini on Lungarno Vespucci​​.
Florence is also a popular destination for international students, particularly those from the United States who are participating in study abroad programs. Over 45 university study centers in Florence offer a wide range of educational experiences, from undergraduate to graduate levels, enhanced by the city's rich artistic heritage and vibrant culture. This makes the city a hub for students seeking to immerse themselves in the arts, history, and Italian culture​​. The presence of the consulate is a reassuring element for both tourists and students far from home.