By Margaret Haberlein, UConn
As our study abroad experience is coming to an end, some of us are starting to realize that our pants might be getting a little tighter and our faces a little rounder. But it is only to say that we are doing the whole abroad thing right–really taking advantage of the food culture we are immersing ourselves in.
With that being said, there is less focus on exercise. Even though the temptation of gelato rise as the temperature also increases, it's important to remember to balance treats with your wellbeing. Many of the ISI students belong to gyms all around Florence. And with such a short time left, signing up for a gym membership might not be in your favor.  Another way to possibly work off that extra scoop of gelato is to attend a yoga class at 19r Yoga and Pilates, which is located across the Arno (via dei Bardi 19r). The class is offered by the Director/Owner Melissa, a New York University graduate who moved to Florence years ago. The type of yoga Melissa teaches is Ashtanga which is a mind and body strengthening course as well as a Pilates class.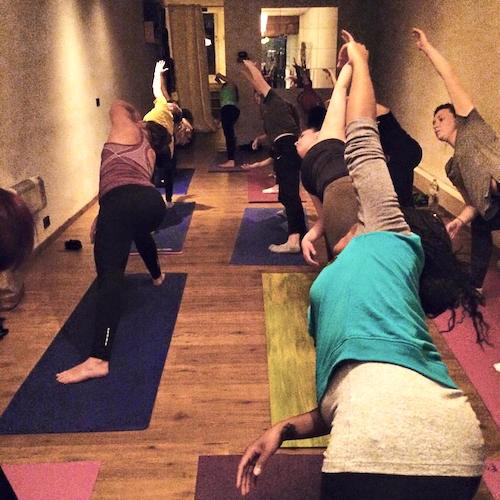 In addition to yoga and the gym, there are some beautiful places to run around Florence. If you've spent any significant amount of time here, you know that running through the center of the city is generally ill-advised with the aggressive drivers and often non-existent sidewalks. However, many students enjoy running along the Arno, the famed Florentine river. My pro-tip is that if you have the time and energy to walk/run for awhile past the Ponte Vecchio (both upriver and downriver), you will find a beautiful park to run in. For those living near Santa Maria Novella, Il Parco delle Cascine is probably your best bet. For those living on the opposite side of the city, closer to Santa Croce, there is also a beautiful one called Parco dell'Anconella. Lastly, for those who enjoy a challenge or are seeking to get super fit, there are many great hills to run up around Piazzale Michelangelo on the other side of the Arno.
So what are you waiting for? Get out there and get fit. You'll feel great and won't feel guilty about treating to yourself to a gelato after your yoga/pilates/run.