The Intercultural Communication Course Blog (Prof. Christian Tarchi)
Chloe Rento (UVA), Daniela Jones (UVA), Julie Tofano (UConn)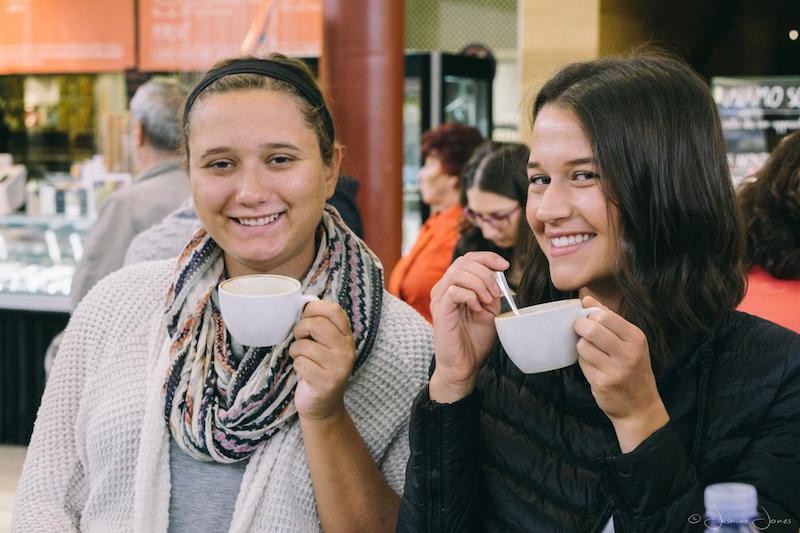 Let's be honest, one of the reasons we came to Florence is for the food. But the seemingly endless number of possibilities sometimes makes finding a meal or a snack overwhelming. In our short time here in Firenze, we've managed to locate a few go-to places for three of the most important food groups: coffee, panini, and gelato. The three of us decided to each tackle one of these essential groups, so you can have some ideas on where to get the best food here!
For your morning pick-me-up, I've found that, for the most part, you really can't go wrong with any of the "bars" around the city. There are a few near the ISI buildings that are particularly good and convenient for grabbing right before class. Near Palazzo Rucellai, A Casa Ca.fe has a more American-friendly atmosphere. There is plenty of space and tables available, which can sometimes be hard to come by in other typical Florentine bars. In addition to the standard pastries and sweets, they are one of the few places that offers iced coffee! Another option right outside of Palazzo Rucellai is Caffè Amerini, which makes up for its small space with a wide variety of small paninis and snack foods for a light lunch. Caffè Il Rubaconte is a popular choice that is right next to Palazzo Bargagli. It offers both space and a wide selection of yummy food and drinks (not all coffee-based) for the perfect stop before your Italian class! (Hint: all of these places offer discounts to ISI students!)
When determining which panini places to include in my review, I decided to choose four places that are all very easily accessible from Palazzo Bargagli as potential lunch spots: Alimentari Uffizi, Salumeria Verdi (Pino's Sandwiches), 'Ino, and All'Antico Vinaio. While I personally thought that each establishment offered a delicious panini, there are few differences between the four that may help you determine which of these may become your new favorite lunch spot. If cost is the most important factor for you, I would not suggest 'Ino's. While it is very famous and offers hearty (and mouthwatering paninis), the price for a panini ranges somewhere between 8 or 9 euro. In contrast, you can get a panini for roughly the same size or larger (and about half the price) at any of the three other locations. If you don't mind waiting in line or if you're looking for something to really fill you up, I would suggest Pino's or All'Antico Vinaio. Both offer an array of tasty combinations and large portions for roughly 4 or 5 euro. Lastly, Alimentari Uffizi would definitely be my pick if you are seeking an authentic experience or a "light lunch." All of the products inside come from the family's farm in Tuscany, and it offers a relaxing space to sit, enjoy your panini, and soak up the experience. The possible contents of the panini tend to be much more limited than those of the other three shops (unless you're willing to pay more than 4 or 5 euro) but it serves as a simpler alternative. If, after reading this review, you are still uncertain about which panini you should try, my best advice would be to try them all–you definitely cannot go wrong!
As I'm sure you're all aware by now, the gelato in Florence is extraordinary. Granted I have probably gained at least 5 pounds in the last 3 days trying to fit as much gelato in my schedule as possible, the fact that taste testing different gelaterias was my homework makes it all worth it. The 3 places that I tried out are: Gelateria La Carraia, Gelateria Dei Neri and Magnum. While I genuinely believe there is no such thing as bad gelato, there were some differences between the 3 locations. At Gelateria La Carraia I ordered dark chocolate and orange based off a recommendation from my Italian professor. I thought it was a weird combination but she was right and it was amazing. The prices vary depending on the size but it was extremely inexpensive and satisfying. The next place I went to was Gelateria Dei Neri, which is located (conveniently) near Palazzo Bargagli. You can never go wrong with hazelnut so I ordered that and my friend ordered pistachio. I'm usually not a big fan of pistachio but it was better than I thought it would be and obviously the hazelnut was delicious. The prices were very similar to other gelato shops, ranging from 1-2.5€ depending on the size you wanted and whether or not you got it in a cup or cone. Finally, the last place I tried is called Magnum. Despite not being an actual gelato shop, it has the most amazing, intricate ice cream I have ever seen. They dip your ice cream in whichever flavor you want, and then coat it in whatever toppings and you eat it off of a stick. The line was much longer than the other two and it was much more pricier but entirely worth it. I ordered vanilla ice cream dipped in milk chocolate covered with chocolate chips and rose petals and drizzled with white chocolate. This description doesn't do it justice but if you're reading this right now, stop what you're doing and go to Magnum- you will not regret it! It cost around 7€ but the experience is totally worth it. Overall, the gelato selection in Florence is excellent and I am sure whichever place you choose you will enjoy your meal.