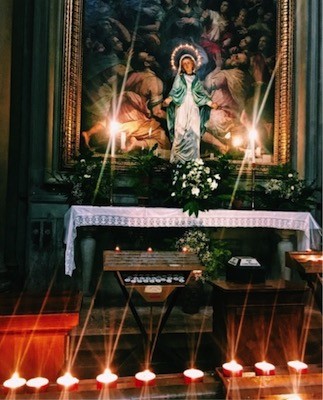 Some of the most memorable lessons don't actually take place in the classroom. That's why as ISI Florence students, it is a wonderful opportunity to enjoy site visits to the historical spots in Florence. Last Tuesday, our Social Media class learned about the Santa Croce Opera, and we took our social media talents to the actual site. As any visitor can see, the complex is huge. In fact, it's the largest Franciscan church in the world! Therefore, we want to give you some pointers for when you make your visit.
The experience of Santa Croce starts when you stand outside its large and majestic façade. We recommend grabbing a seat and taking in the church's exterior beauty and size from the Piazza Santa Croce, which is adjacent to the church.
After walking through the building's large wooden doors, visitors are welcomed by stained glass windows and Giotto's frescoes.
Be prepared: Santa Croce is the final resting place of famous Florentines such as Michelangelo and Galileo. We suggest taking a slow stroll along the church's walls that will surround you with beautiful artwork. And keep in mind, you will be in the same place as some of Florence's most powerful and creative people now rest in peace.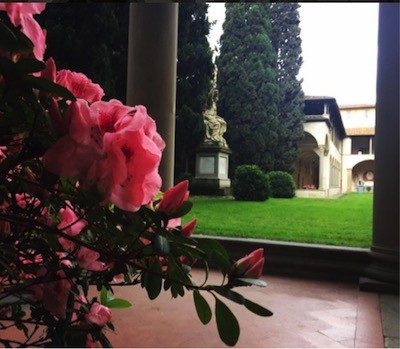 Our favorite pointer when visiting Santa Croce is taking a walk through the cloisters.
An additional tip: visiting in the spring is special, as you are viewing the sprouting blossoms while also viewing one side of the church. The cloisters are an architectural experience themselves, so make sure to look out for the structural arches.
We only have one "don't" while visiting the church: don't plan on rushing through the site. The church of Santa Croce is quite large, and you need at least one full hour to enjoy everything. The visit is spectacular and may take a while.
Authors: Amanda Phalon (UConn), Emma Stewart (PSU), Mary Trotta (PSU), Sara Van Der Els (UConn), Alexi Zacarias (PSU) 
Edited by Alexis Dairman, Penn State
Spring 2017 Social Media Class – Professor Alessandro Masetti ABOUT