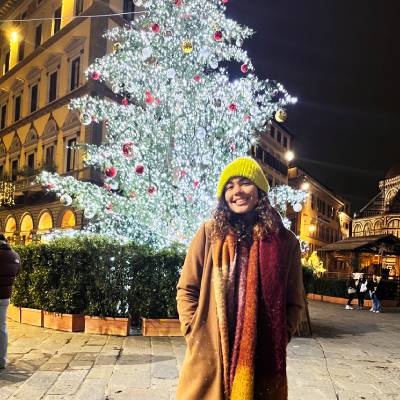 By Isabel Anderson
University of Maryland – ISI Florence Fall 2022
This blog post is so bittersweet for me; I can't believe that my time studying abroad in Florence is up! There were hard moments and challenges, but the growth I felt within myself and the experiences I was able to have outweighed it all. It's easier to look back and reflect on my experience now, so here are just three ways that I feel I grew the most while studying abroad.
I have less fear about traveling and a greater desire to explore new places.
Before I studied abroad in Florence, I had not gone outside of North America (and even those trips were very infrequent), so initially the thought of traveling around Europe was daunting. While I had always associated travel with exhausting long plane rides or car rides, I quickly came to find that taking trips was so much more convenient and inexpensive in Europe. Traveling to so many different places, whether in Italy or outside of it, made me realize just how much there is outside of my small bubble. There are so many different cultures and traditions that can be seen in multiple aspects of lifestyle like food, architecture, art, and social behaviors. Overall, studying abroad helped to silence the doubts and fears that I had about traveling. I gained so much self confidence and knowledge from going to new places and navigating the process of getting there. Now, I find myself compelled to explore new places, even if it's within the United States or my own home state!
I have opened up to new possibilities and potential futures for myself.
Living in a new place and immersing myself into a new culture opened me to new ways of life. For me, watching the people of Florence, as well as living in a new physical and climatic environment, made me start rethinking the one-track plan I had for my life. I originally thought I would finish undergrad, then work somewhere in the US, then go to grad school, and then work until I retire, a path that was very influenced by what American society dictates a successful life is. But the difference in work culture and thoughts on life – for example, the idea of "living slowly" that is prominent in Italy – helped me realize that I don't just have to work every second of my life. There is no one linear path to get to where I want to go. I now have the ability to entertain new thoughts of my future as I learned what places and things felt right to me. Who knows, maybe I'll end up in Europe! Outside of professional development, I also found that I unlocked new aspects of myself because I wasn't tied to who I was or was perceived as in America; I could explore new parts of myself and meet new people, almost like starting over. Now, I find myself thinking about my post-grad plans and how I can explore other places or interests as I enter the working world soon!
I have more confidence and independence.
With this more open sense of where life could take me, I also found myself opening up to the confidence to make it happen. One of the biggest things that I took from my study abroad experience was the importance of alone time and being able to do things independently. I have struggled in the past with anxiety and fear of doing things on my own and going into the unfamiliar. Due to the living environment (in an apartment with 7 other students and not having the same people I'm usually around in America), I was more and more drawn to giving myself the time to recharge my social battery and enjoy my own company. This is a practice that I am working towards continuing in the United States. Through this experience, I had times I was uneasy or uncomfortable; but when I was able to navigate those things, I gained so much confidence because I knew I was capable of figuring things out all by myself. The ability to do things and take care of myself independently is good, but I've grown to appreciate the desire to do things on my own even if I don't necessarily have to. Now, I want to prioritize "me time" and my own thoughts.
I can easily say that studying abroad was the best decision I've ever made! The growth that I experienced in Florence was so unique and rooted in my experiences here. I'm returning to America with a stronger sense of self, confidence and desire to explore. Thank you ISI Florence for an amazing semester that I will truly never forget!

I'm dedicating this post to my grandmother who passed away while I was abroad. She was my favorite person in this world; she made me so excited to live and discover and grow so that I could tell her about it after. To the moon and back, Nerline.