The ISI Florence Guide | Listing the Best Picks of the Month to Explore the City at its Best.
make the most of the city with suggestions from ISI STAFF!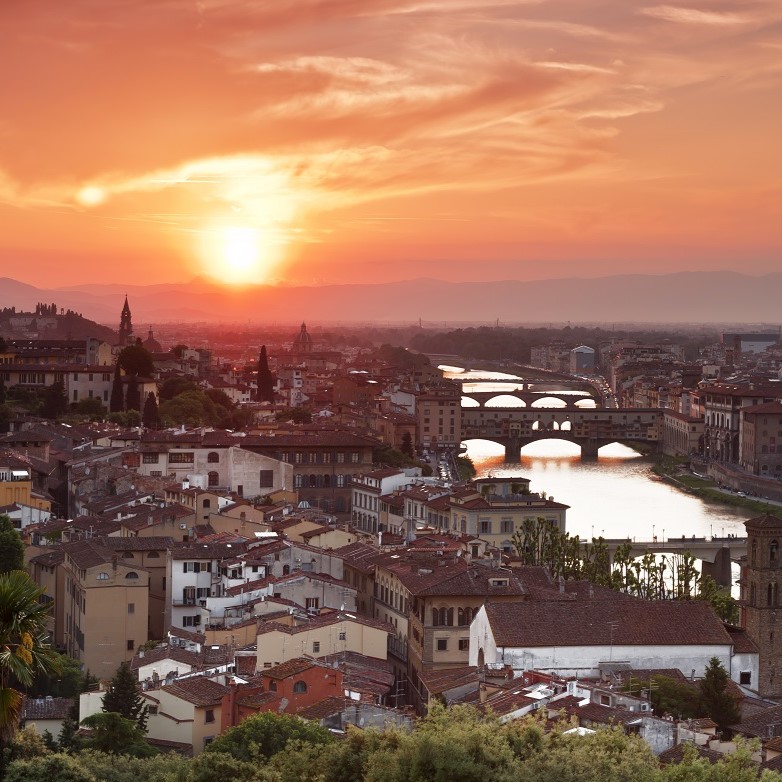 1. WATCH THE SUN SET AT PIAZZALE MICHELANGELO
2. VISIT THE UFFIZI
3. EAT GELATO AT ONE OF THESE PLACES: La Carraia, Sbrino, Gelateria dei Neri, Vivoli
(Try "Buontalenti", the gelato flavor invented in Florence!)
4. GO TO FIESOLE
5. TOUCH THE PORCELLINO'S SNOUT
6. TRY A TYPICAL TUSCAN DISH
7. VISIT THE BOBOLI GARDENS
8. SEE THE REAL DAVID AT THE GALLERIA DELL'ACCADEMIA
9. COFFEE BREAK AT LE OBLATE LIBRARY
10. GET FOOD AND GROCERIES AT MERCATO CENTRALE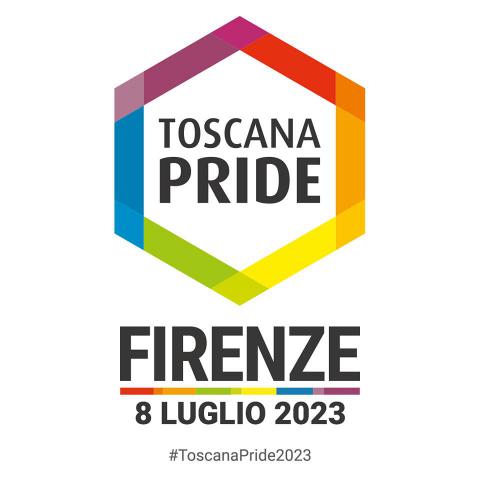 TOSCANA PRIDE MARCH 2023
The Toscana Pride is finally coming back to Florence! The 2023 edition will take place right in the region's capital on Saturday, July 8. This pride event was organized by LGBTQIA+* (lesbian, gay, bisexual, transgender, queer, intersex, and asexual) associations, that in 7 years has seen over 100,000 people marching. Join queer Florentines and allies in the march, the event is open to all!
When: Saturday, July 8 – 4:30pm
Where: March starting from Piazzale di Porta Romana
Price: Free
Website: https://www.toscanapride.eu/parata/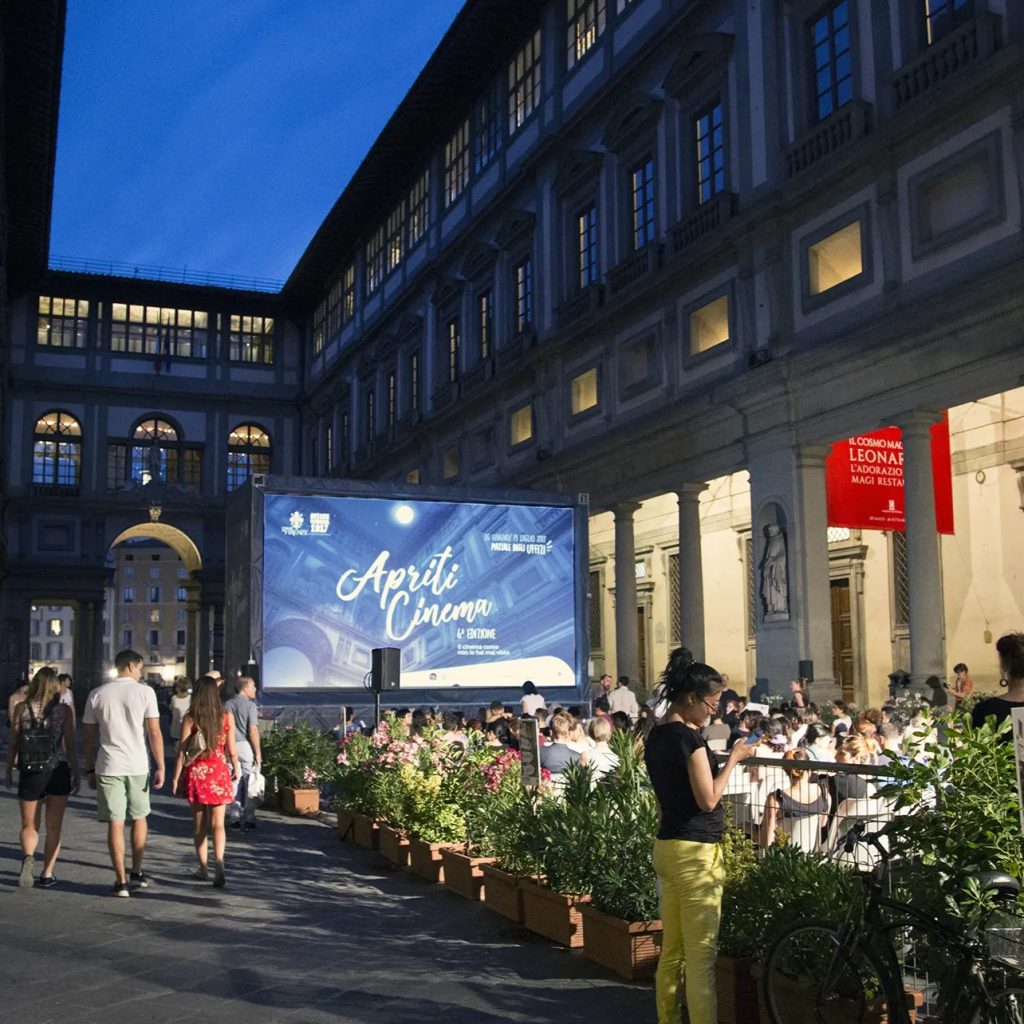 APRITI CINEMA! Summer cinema at The Uffizi
Enjoy movies outdoors in the beautiful Piazzale degli Uffizi, right in the middle of the square. All films are shown in their original language with Italian (and sometimes English) subtitles.
When: Everyday – 9:45pm (unless differently stated in the program)
Where: Piazzale degli Uffizi
Price: Free (limited tickets)
Website: https://www.cinemalacompagnia.it/evento/programma-apriti-cinema-2023/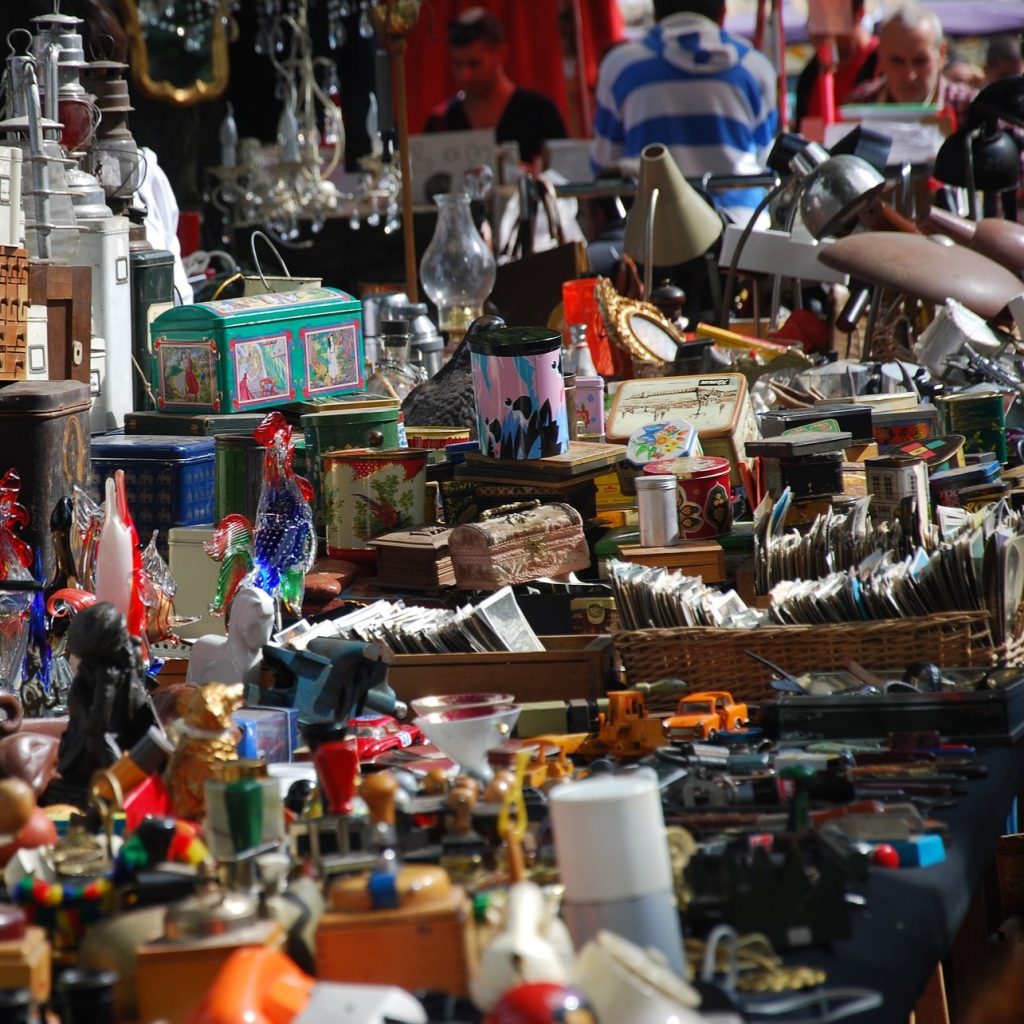 INDIPENDENZA ANTIQUARIA
Monthly flea market in the city center where you can find vintage furniture, books, paintings, fine china and all sorts of interesting objects!
When: Saturday & Sunday, July 22 & 23 – 9:00 am to 7:00pm
Where: Piazza Savonarola, 1
Price: FREE
VIAREGGIO
By far the easiest seaside location to reach, Livorno offers sandy beaches equipped with everything you might need but also long stretches of so-called "free beach" where you can sunbathe without paying for a sun umbrella and deck chairs. Along the seafront you can find restaurants and shops to have a quick bite for lunch.
Getting there: Viareggio is easy to reach with frequent regional trains from Firenze S.M.N.

CASTIGLIONCELLO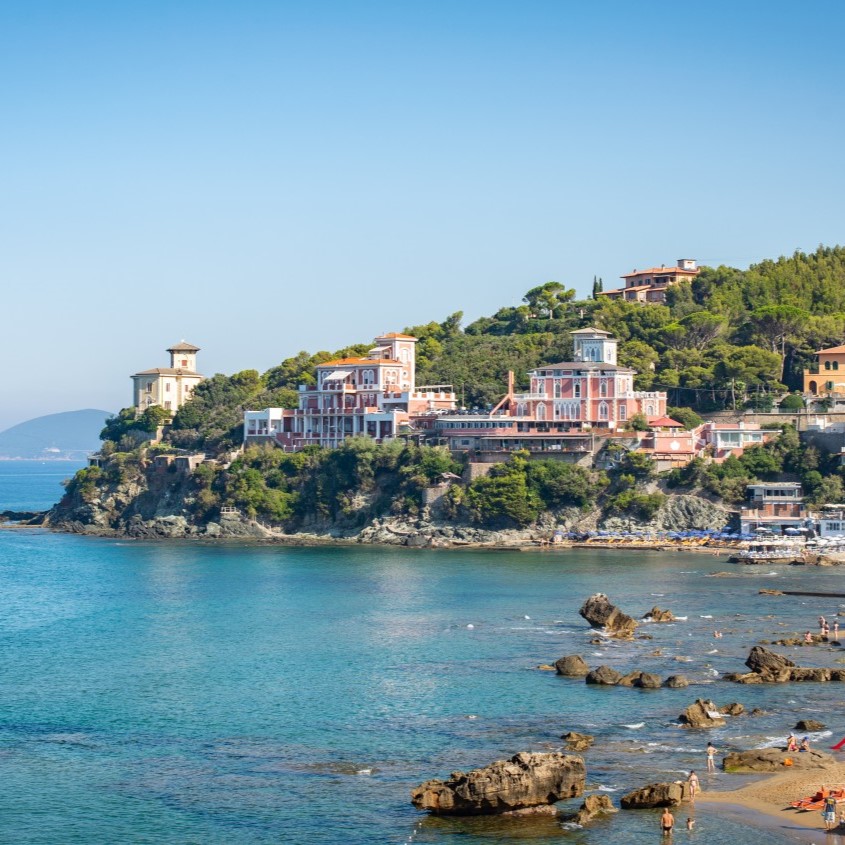 Castiglioncello is beloved both by Tuscans and tourists, it is easy to reach and offers beautiful beaches and a lively atmosphere. This seaside town has everything you need for a lovely weekend trip.
Getting there: Castiglioncello is easy to reach from Firenze S.M.N.: book the train on Trenitalia and with just one train change in Pisa you'll be there in no time!

ELBA ISLAND
Nestled in the picturesque Tuscan Archipelago, the island offers an unforgettable experience. While the journey from Florence is a little longer than the other locations, it is well worth it as Elba offers some of the most beautiful sights in Tuscany, with clear water and white rocky beaches.
Getting there: Getting to Elba is not the easiest as you will need to get the train from Firenze S.M.N. to Piombino Marittima and then get the ferry, which will take you to the island.
There are many beautiful beaches all over the island that can be reached by bus. We recommend: Spiaggia delle Ghiaie, Spiaggia di Padulella, Spiaggia di Sansone, Marina di Campo, Spiaggia di Cavoli, Fetovaia, and Procchio.
Summers in Florence can get very hot. That's why we always suggest cooling off in one of Florence's many public swimming pool. If the sea is not for you, you can find everything you need to relax and sunbathe right in the city.
PISCINA IL POGGETTO – Via Michele Mercati, 24
Open Everyday 10:00am – 7:00pm
Daily ticket: €9,00 on weekdays and €12,00 on weekends. Swimming cap required.
PISCINA LE PAVONIERE – Viale della Catena, 2
Open Mon to Fri 9:30am – 7:30pm – Sat. & Sun. 9:00am – 7:30pm
Daily ticket: €9,00 on weekdays and €12,00 on weekends. Swimming cap required.
PISCINA COSTOLI – Piazzale Bertlinguer, 2 (open from May 5)
Open Mon. 2:00pm – 6:00pm (reduced price); Tue to Fri 10:00am – 6:00pm; Sat. & Sun. 10:00am – 7:00pm
Daily ticket: €8,00 on weekdays and €6,00 on weekends. Swimming cap required.
HIDRON WATER PARK – Via di Gramignano (open from May 7)
Small waterpark in the neighboring town of Campi Bisenzio. You can get there by taking bus 30 from Via delle Porte Nuove.
Open Everyday 9:00am – 6:30pm
Daily ticket: €15,00 Swimming cap required.
ASMANA WELLNESS CENTER – Via Salvator Allende, 10
Enjoy a relaxing day in a spa with thermal water and sauna! You can book massages and treatments.
Open Mon. to Thu. 10:00am – midnight; Fri. 10:00am – 1:00am; Sat. 9:00am – 1:00am & Sun. 9:00am – midnight.
Daily ticket: €43,00 on weekdays and €49,00 on weekends.
Many locals enjoy summer evenings along the river, eating and meeting with friends for a drink in one of the many restaurants, bars and food trucks that open their doors from the end of May to September. Just remember to bring your bug repellent as near to the water there are a great number of hungry mosquitoes!
LA TORAIA – Lungarno del Tempio
Open Everyday 6:00pm – 11:45pm
IL MOLO FIRENZE – Lungarno Cristoforo Colombo
Open Everyday 7:00pm – midnight
GIARDINO ARTE CULTURA – Via Vittorio Emanuele II, 4
Open Everyday 10:00am – midnight
SANTAROSA BISTROT – Lungarno di Santa Rosa
Open Mon. to Fri. 9:00am – midnight; Sat. & Sun. 10:00am – midnight
HABANA 500 & FIORINO SULL'ARNO – Lungarno Pecori Giraldi
Open Everyday 12:00pm – midnight
PANZANELLA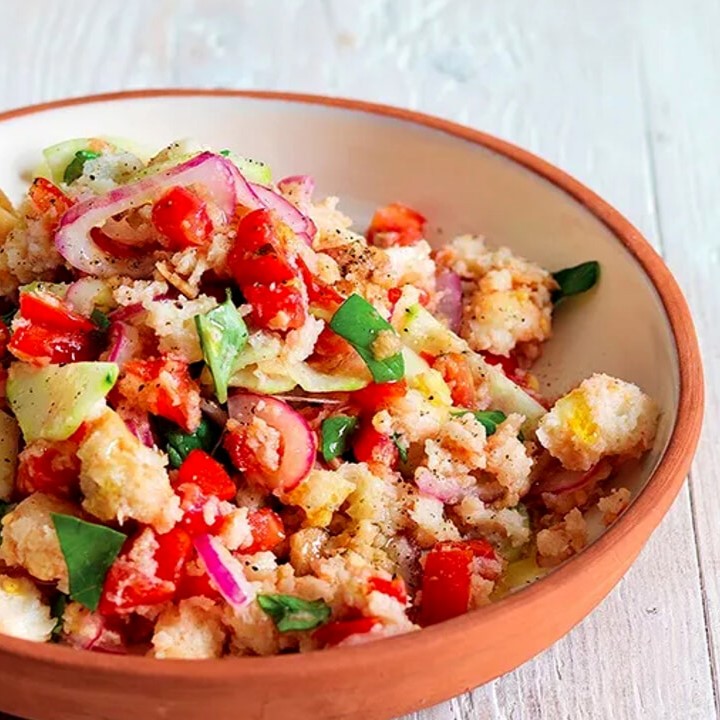 Panzanella is a salad of stale bread and vegetables, a traditional Tuscan dish particularly suitable for summer.
Recipe: 200 g stale white Tuscan bread (unsalted) – 1 cucumber 200 g coppery tomatoes – 1 Tropea onion 1 liter water – 40 g apple vinegar – Olive oil, basil, salt, and pepper.
To prepare the Panzanella, cut the bread into coarse pieces and place in a large bowl. Add water (some recipes also add vinegar at this stage), just enough to wet it and leave it to soak for 20-30 minutes. Meanwhile, peel the vegetables and cut the onion into slices, the cucumber and the tomato into chunks. Then, squeeze the bread well with your hands, it should not be too wet. Combine the tomatoes, cucumber and onion in a large salad bowl. Add the pieces of bread and the basil leaves, chopped with your hands. Season with plenty of oil, vinegar, salt and a sprinkle of pepper. Mix well and let the panzanella rest for a couple of hours before serving.
PAPPA AL POMODORO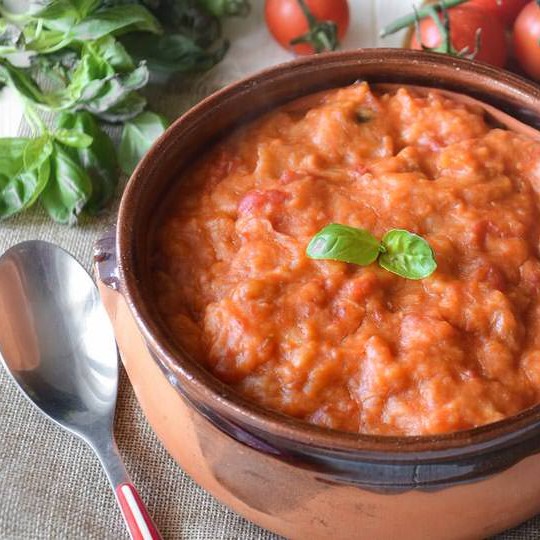 One of the symbolic recipes of Tuscan cuisine, made with leftover Tuscan "stale" bread and beautiful red and ripe tomatoes. A first course that can be enjoyed both hot and at room temperature.
Recipe: 150 g stale white Tuscan bread (unsalted) – 1 garlic clove 250 g ripe tomatoes – 1 Tropea onion – ½ liter vegetable broth – Olive oil, basil, salt, and pepper.
To prepare the Pappa al Pomodoro, peel the tomatoes and chop them coarsely. In a saucepan heat the extra virgin olive oil with a clove of garlic over medium heat for about 2 minutes. Remove the garlic and add the tomatoes. Cook for a few minutes and cover with a lid. Season with salt and pepper. Meanwhile, cut the bread into chunks and put in a bowl, cover with boiling broth until the crust has softened. Add the bread in the saucepan with the tomato, stir constantly, until the bread is completely undone. If the Pappa gets too dry, add some broth a little at a time. Season with salt and pepper and add the fresh basil leaves. Let the Pappa al Pomodoro rest and garnish it with fresh basil and a drizzle of extra virgin olive oil.