Everything you need to know to enjoy the experience of a lifetime.
Marco Bracci + Marco De La Pierre
Marco Bracci (PhD in Sociology of Communication; professor of Intercultural Communication at ISI Florence).
Marco De La Pierre (MA in Communication and Media; professor of Social Media, Social Food at ISI Florence).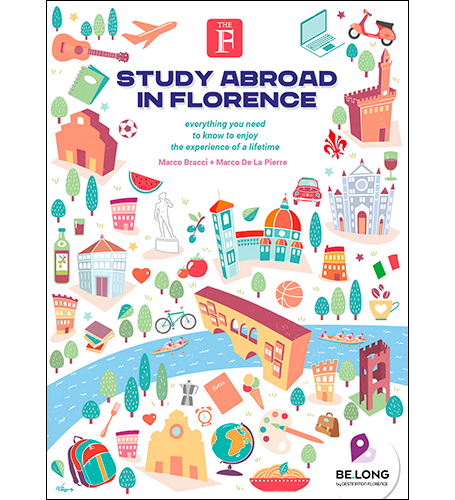 Studying abroad in Florence is a life-changing experience that will have a positive impact on your future. Studying in Italy means discovering a culture that has shaped the philosophy, aesthetics, and lifestyle of the world.
STUDY ABROAD IN FLORENCE. Everything You Need to Know to Enjoy the Experience of a Lifetime makes you reflect on this experience that will prove so important for your future. Find out more about what awaits you in Florence, including practical information to help you make the most of your daily life in the city, travel tips, and advice from former alumni.
The importance that local institutions attach to international higher education is also demonstrated by the fact that this book includes welcomes from the Mayor of Florence, the President of the Region of Tuscany, the US Consul General, and the Provost of the University of Florence, plus dozens of directors and professors from the city's main universities and international programs.
Your new life starts tomorrow in Florence, the smallest global city in the world.
STUDY ABROAD IN FLORENCE can be purchased here.
STUDY ABROAD IN FLORENCE
Everything you need to know to enjoy the experience of a lifetime.
Marco Bracci + Marco De La Pierre
ISBN: 978-88-97696-25-4
First edition: May 2022
All rights reserved | Riproduzione vietata
2022 B'Gruppo srl, Prato
Imprint | Collana: The Florentine Press