The ISI Florence Student Services Office supports students during their semester abroad as they immerse themselves in the Italian culture and forge a global identity.
Adjusting to a foreign language, a new city, and a different lifestyle all at the same time can be highly challenging for incoming students. For this reason, the ISI Student Services team focuses on offering a variety of icebreakers and introductory activities at the start of each semester.
The Neighborhood Aperitivo extracurricular activity was organized in mid-January to allow students living in the same neighborhood to meet, get to know each other, and discover a local café-bar close to their apartments.
Students signed up to join one of the four aperitivo meet-ups– a location for each neighborhood of the historical center of Florence, where ISI apartments are located: Santa Croce, Oltrarno, San Marco, and Santa Maria Novella.
With this activity, we also intended to introduce students to one of the most sacred Italian practices: the aperitivo!
The aperitivo is a common occurrence in Italian daily life. It's a relaxing moment after a long day of work or study, a casual gathering with friends just before dinner. In fact, it strictly takes place during the golden hour. The get-together and casual conversation are accompanied by a glass of wine, a light cocktail, or simply soda. Since Italians always pair drinks with food, the bar will also serve up a selection of snacks, such as chips, nuts, canapes, croutons, cold cuts, and cheese. Spritz is the iconic aperitivo drink and was first invented in Venice, but it's in Milan that it really took off and became fashionable throughout Italy.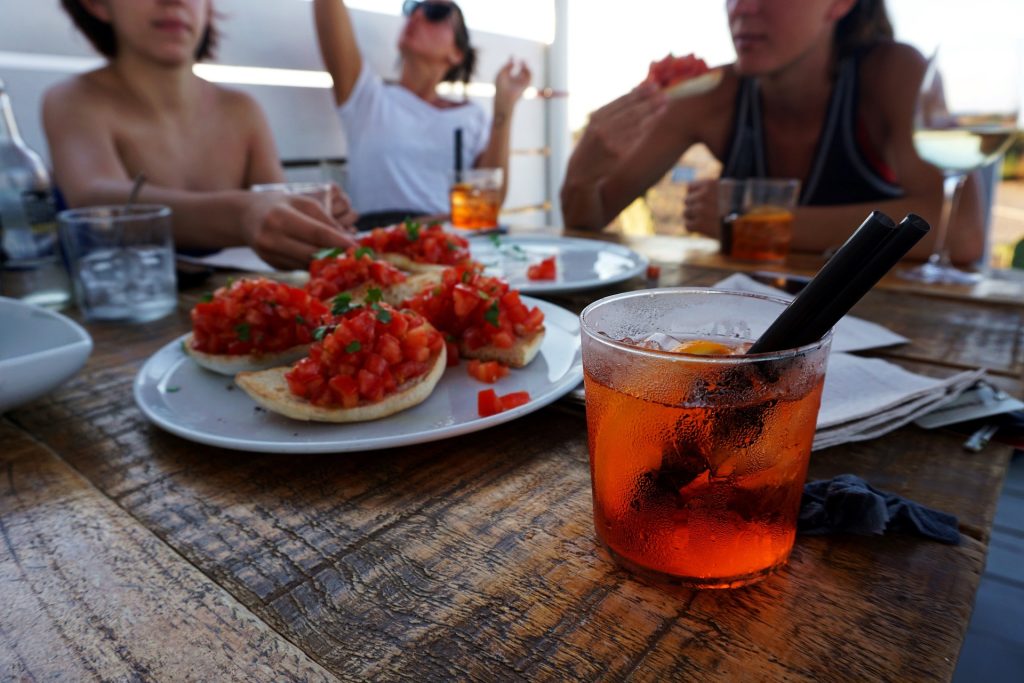 Francesca and Asia from our Student Services team told us about the important role this activity plays in the first weeks of a new semester.
Francesca, our much-loved Student Services Advisor, said "As always, The Neighborhood Aperitivo is a great opportunity not only to share part of the Italian culture with students but also to get to know them and chat in a less formal scenario." Likewise, Asia told us, "The aperitivo is a great activity for students to meet up in a relaxed atmosphere. They engage in a quintessential Italian experience, learning how an aperitivo works in a somewhat supervised setting, where we can provide a little bit of history and background, as well as suggestions on drinks and food. Having this extracurricular experience so early in the semester is helpful for students to understand how Florentines live within their neighborhood and local community. We chat with students in a less academic setting, allowing them to ask us questions on a wider spectrum of topics, specifically regarding cultural differences and our own experience of living in Florence".