In February, ISI Florence and Penn State partnered to promote and encourage students to pledge with the Penn State initiative called 'Stay Local'. The aim was to encourage students to avoid unnecessary travel, explore the local territory more deeply, and limit their environmental impact.
By signing the pledge, students committed to staying local for one or both selected weekends (February 11-12 and April 1-2, 2023). Penn State sponsored a day trip to the Carnevale di Viareggio, organized by ISI Florence, for all its students partaking in this activity.
We spoke with April Parrish, a Penn State student who participated in the day trip. Read below to discover more!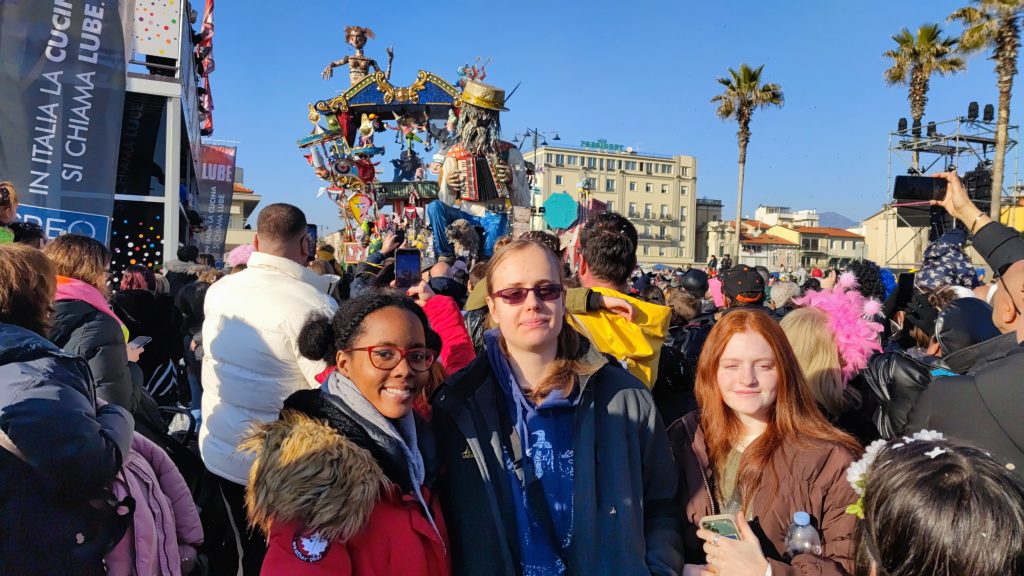 "I recently pledged to the Penn State Stay Local call and was pleased with my decision. Many students studying at ISI Florence are inclined to explore Europe during the weekends as it is more affordable compared to traveling within the United States. The Stay Local pledge advocates for students to remain within the local vicinity, in my case, Italy, and immerse themselves in the Italian culture with the advantages of a more immersive and educational experience.
ISI Florence partnered with Penn State on the first weekend of the Stay Local initiative. On Sunday, February 12, ten Penn State students studying at ISI Florence this Spring 2023 joined the day trip to Viareggio, a beautiful Tuscan coastal town. The purpose of the trip was to attend the world-renowned carnival parade, the Carnevale di Viareggio, one of the largest celebrations in Europe. The parade includes a 2-mile-long procession of gigantic paper-mâché floats on the seaside avenue known as La Passeggiata.
The excursion was sponsored by Penn State, which meant that all expenses were covered for Penn State students. The streets were bustling with people. Francesca, ISI Florence Student Advisor, found the group a great viewing spot amidst the crowd. The floats were magnificent, with dynamic and colorful designs that glowed even more vibrantly under the sunset light. It was impressive to learn that families created and performed on these floats as a community effort to put on a spectacular show. The most remarkable aspect of the Viareggio experience, in my opinion, was the sense of community and collaboration.
Afterward, we tasted delicious Italian street food and purchased beautifully crafted masks, which were surprisingly inexpensive. We also enjoyed some gelato from a small store and took pictures of the picturesque scenery. We watched the sunset over the beach from the pier before returning to the train station. This simple yet gratifying excursion highlighted the value of staying local and exploring nearby towns."
ISI Florence is delighted that April and her peers had a positive experience with the Penn State Stay Local pledge, and we hope that it will encourage other students to explore more of the local area during their time abroad.