Introducing "A Guide to Italy: Cultural Insights and Tips to Maximize Your Trip" by Dr. Patrick Tunno. Published in 2023, this essential guidebook is addressed to travelers seeking to embrace Italy's culture fully and make their journey truly meaningful and authentic.
Book Description
While most travel guidebooks and forums provide lists of what to do, A Guide to Italy: Cultural Insights and Tips to Maximize Your Trip tells you how to do it. Covering topics such as eating, shopping, social norms, traveling, the Italian context, and more, this book delivers a wealth of cultural knowledge alongside lessons on how to approach various situations you will encounter in Italy. The tips in this book and the framework it provides will take you much further than any guidebook could alone, and will help ensure that your time in Italy is truly meaningful and authentic.

You will learn the tools to understand, behave like, and connect with Italians and discover the most rewarding way to experience Italy—or any country, for that matter. The expert insights, colorful anecdotes, and practical information you'll gain from this book will help you stand apart from other tourists as you blend in with the locals. It will give you a major advantage—whether you are planning a vacation, business trip, or studying abroad in Italy. This book also includes advice on how to learn Italian along with some words and phrases that are especially helpful in navigating the country.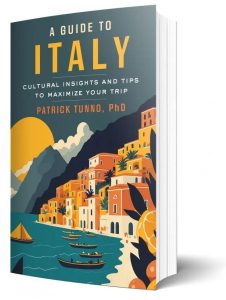 About the Author
Dr. Patrick Tunno is a writer, professor, language enthusiast, and Italian voyager. He holds an MBA from Milan's SDA Bocconi University and a Ph.D. from Penn State University. While on the faculty at Penn State and Virginia Tech, he developed and led study abroad programs throughout Italy and Switzerland's Italian-speaking region. His expertise has helped prepare thousands for life-changing, authentic experiences in Italy. A lover of Italian coffee, he starts each day with a cappuccino from his home espresso machine.
Visit: patricktunnophd.com