During last Fall a film crew from the German production company Atlantis-Film spent several weeks in Tuscany to make a film documentary on the life of Galileo Galilei (1564-1642). Atlantis-Film is highly reputed for the accuracy of their historical reconstructions, as clearly attested by their most recent success, a documentary on the life of the world-famous Venetian composer Antonio Vivaldi. The same high standards apply to their Galileo project. To realize it, special efforts were made to create a perfect setting atmosphere, where every single detail (from costumes to furnishings and music) has been treated with the utmost accuracy.
The scene showing Galileo's birthday lunch with the Medici's ambassador in Rome is a case in point. On that occasion, Galileo was persuaded to abjure his revolutionary astronomical theory, which the Church rejected. To shoot this scene, film director Eike Schmitz asked for the presence of ISI Florence professor Rita Comanducci. Besides teaching Art History and Fashion History at our institute, Rita is also a lute player.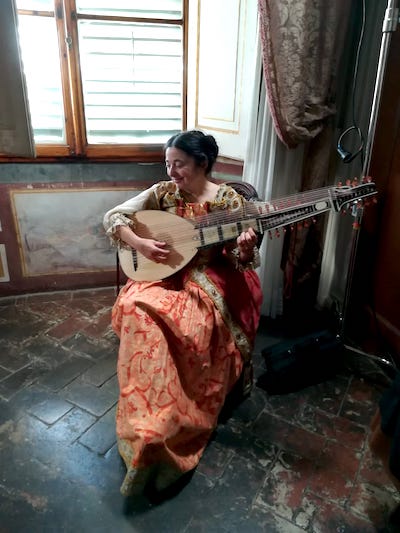 For several years in a row before the pandemic hit, she and Maestro Gian Luca Lastraioli (professor at both Consevatorio di Parma and Scuola di Musica di Fiesole) organized a 3-day long Renaissance lute music workshop at Palazzo Rucellai (one of the two ISI Florence facilities) in early summer. For the Atlantis-Film documentary, Rita was asked to play the lute in the lunch scene, thus providing it with early-seventeenth-century musical accompaniment. Rita tells us that the experience has been great, offering her an amazing occasion to immerse herself – as it were – into that past that she has always studied and loved, and whose knowledge she shares with her ISI Florence students.
In addition to the professionalism of the film crew – it took over two hours to get the scene right! – Rita found the following three things to be truly amazing: the beautiful place chosen for the set, the costumes, and the attention paid to music.
As for the place, the scene of Galileo's birthday dinner was filmed at "Villa Corsini a Mezzomonte". Located just outside Florence, this building is a wonderful example of "villa medicea" (i.e., a country palace once owned by the Medici family). As such, it is endowed with a perfectly preserved Renaissance garden: exactly the kind of monuments that ISI Florence students explore in their Art History, Landscape Architecture, and History of Architecture courses!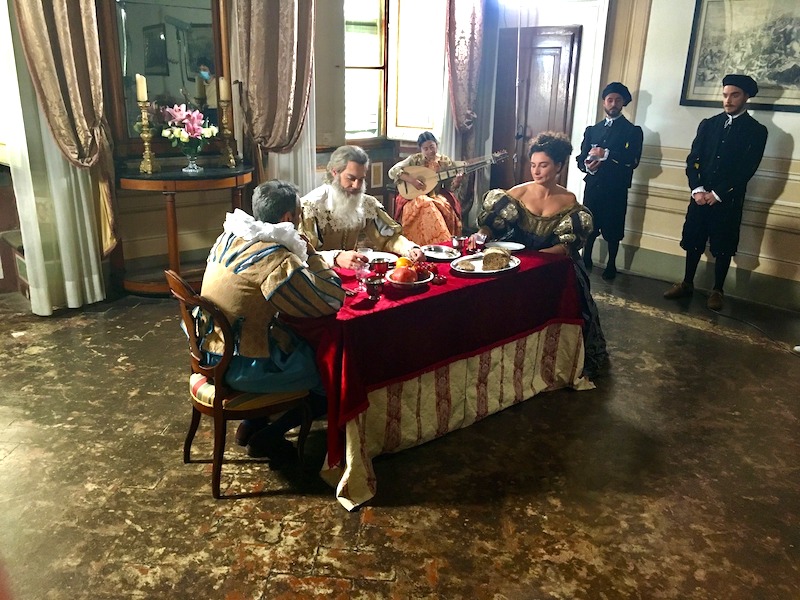 The costumes, too, were amazing! They were tailored by the celebrated Venetian Atelier Pietro Longhi and designed by Francesco Briggi. The latter drew inspiration from dresses portrayed in the masterpieces of the most famous Italian Renaissance artists. Rita's costume was cut according to early-seventeenth-century Roman fashion and inspired by the colours that Bronzino used in some of his famous portraits of Eleonora di Toledo. It consisted of four parts: a shirt, an undergown, a gown, and an overdress (or 'gamurra'), which a long train made particularly lavish. In seeing the pictures here some ISI Florence students may recognize the kind of precious garments they studied with Rita in her Fashion History courses.
As for the music, Rita was asked to play a range of convivial pieces from Galileo's time using her 'liuto attiorbato' (a long-necked lute). Rita's 'liuto attiorbato' reproduces a seventeenth-century Venetian original by Cristoforo Choc, now preserved in the Victoria and Albert Museum, London. That lute and the kind of music that is usually played on it would have been familiar to Galileo. As is well known, Galileo was the son and brother of two famous lute players; he too was a very good lutenist! The idea of having a woman lutenist in the scene was inspired by the figure of Artemisia Gentileschi (1593-1696), the famous Roman female painter who proudly and unconventionally portrayed herself as a lutenist, that is, a difficult and cultivated role mostly reserved – both then and now – to men.