Collecting litter, cigarette butts, plastic cups, and waste of all sorts abandoned on the streets of Florence. The BIG EVENT Firenze, an initiative organized by American universities in Florence, brought our students onto the streets to clean up the city. The day began in Piazza Santo Spirito, in the presence of US Consul General Ragini Gupta who gave a short speech on the importance of taking care of the host town, giving time to the local community, and being an active member of its society. The ISI Florence cohort then moved to Piazza Demidoff to get started!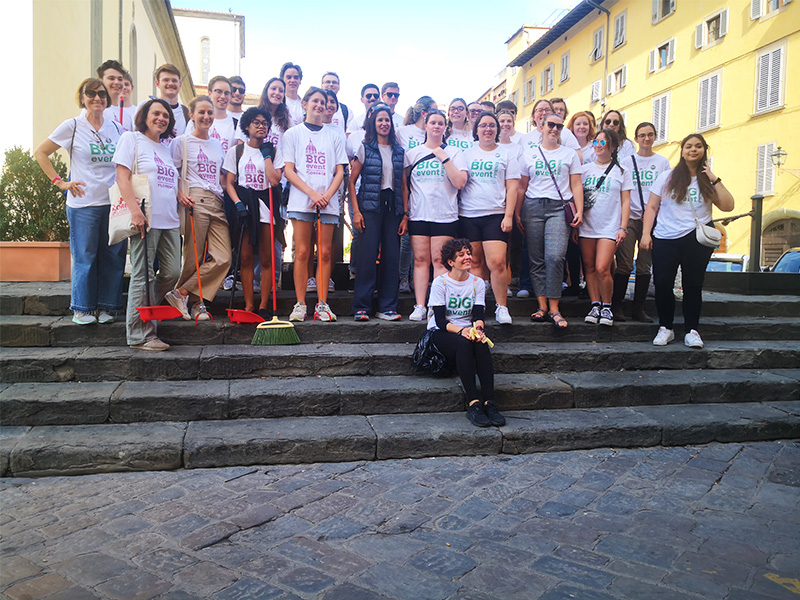 ISI Florence students Tamara Davis (Arcadia University) and Verunika Tewani (University of Maryland) told us they had wanted to take part in community engagement activities but hadn't had the chance due to their class schedules. "This was the perfect opportunity I was looking for, as I can give my time to volunteering with a commitment which is more than affordable".
Serena Giorgi, ISI Florence Coordinator for Community Engagement, who coordinated the participation of ISI Florence and the group of students in The Big Event Firenze, was touched and impressed by the enthusiasm and engagement the students showed. She was also pleased to hear Florentine ladies noticing our students and praising them for their hard work and for taking care of the city.
ISI Florence is grateful to all students who took part in this event and we look forward to next year's reiteration!