As part of the Fall 2019 GLP at ISI Florence, Julia Desiato from UConn interviewed a local shop keeper that has had an impact on her overall experience abroad.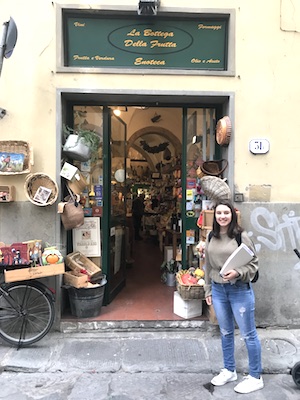 La Bottega della Frutta is a small shop located behind Palazzo Rucellai, headquarters of ISI Florence. It has a mom-and-pop shop feel with its large variety of produce, pasta, wine, bread, and other Italian foods. It's owned by Elisabetta and Francesco, a married couple that has been running the shop since 1991. When I asked them about how they came to own it, they told me the story of how it had originated. Before their ownership, the store was opened by a family in 1912 so it has been around for over 100 years. Elisabetta and Franceso really wanted to open a store and ended up finding this historic fruit shop.
I asked them how difficult it is to own a store like this nowadays with bigger grocery stores like Esselunga and Conad's taking over and they said that it's been hard to draw in as many customers these days and they're looking to retire. Recently, it has declined 30% in profit and 10% of that is due to less Florentine people shopping there. They typically have only locals shopping despite being in a lot of travel books. Elisabetta said that it's difficult to appeal to tourists because they don't stay in Florence long enough to be curious about such historical shops and that they aren't able to appreciate the quality of food in this store. The city council has recently started studying new ways to protect historical stores like this to keep them in business.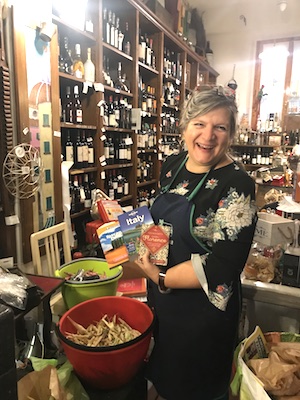 Elisabetta's favorite thing about running a shop is the personal interaction she has with customers and meeting new people. I originally learned about this store on a walking tour with Professor Fischer for my Foundations of Sustainable Food Systems class and was able to get an inside look into this family-run shop. I'm hoping that in the future I break my habit of only going to chain grocery stores and start to explore more local shops like this to try out authentic Italian groceries!