My name is Kyle Terranova and I am currently a Senior at The University of Maryland, studying Criminology and Criminal Justice. I am a member of the Global Leadership Program at ISI Florence, a program that gives students the opportunity to share their experiences and gain valuable leadership skills through different activities.
Florence is ideally located for travel to other cities, whether it be in Italy or other countries throughout Europe. During my time in Florence, I have had the opportunity to experience several different aspects and cultures of this diverse country. These experiences have had lasting impacts on me, and I believe that it is important to engage in as many different travel opportunities or events as possible, in order to truly embrace Italian culture. I have chosen a few of these experiences, with hopes of persuading others to pursue as many adventures as possible.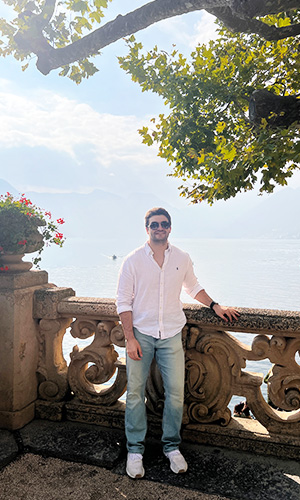 Italian Grand Prix – Formula 1 Race
The Italian Grand Prix is more than a race for many Italians, it is a lifestyle. Nicknamed "The Temple of Speed", the race track in Monza has become one of the sport's most iconic destinations over the years. I was lucky enough to attend the 100th anniversary of the race, and it proved to be one of the best experiences of my study abroad experience. Having been a Ferrari fan for the past several years, it was incredible to witness the sea of red that surrounds the track, as the support for Ferrari at Monza is unlike any other you will see. If possible, I highly recommend attending a Formula 1 race while studying in Florence, it provides a chance to immerse yourself into Italian tradition, while also exploring other cities.
Lake Como
Lake Como had been a bucket list destination for me for many years. I first came to know of the area because of Villa Balbianello, a filming location for a Star Wars movie. The Lake has many different towns that you can explore, and the mountains surrounding the area provide scenic views everywhere you look. The region is vastly different from that of Tuscany and provides a different perspective on Italian culture. I highly recommend visiting the Lake, and exploring Villa Balbianello, which quickly became one of my favorite experiences!
Elba Island
Previously where Napoleon Bonaparte was exiled to, Elba Island offers unique differences from other study abroad travel destinations. Being an Island, the journey across the water was an adventure of its own, as you can see the Italian coast from an entirely different perspective. Elba provides many different activities for tourists. You can relax on the beaches, explore the abandoned fort, or discover where Napoleon was imprisoned. A smaller island compared to the more traditional travel destinations such as Sicily or Sardinia, Elba offers a similar cultural perspective to the other islands!
---
All three of these trips have helped me to view Italy in different ways, which is a crucial part of the study abroad experience. As singular trips, each one is a fun way to learn more about Italian culture and interact with people in new and interesting ways. I strongly suggest visiting a sporting event (if not the Italian Grand Prix) to see the passion that Italians have towards their favorite teams and witness the distinct differences between Italy and American sports. Lake Como and Elba Island offer wonderful experiences that can help diversify the trips you take while studying in Florence!