The Intercultural Communication Course Blog
Authors: 

Emma Matthys (Penn State), Ali Tarnow (UConn),Emma White (UConn), 

Julia Wilson (UConn) 
I wake up around 8am to shower and get ready for my 9am class at Palazzo Bargagli. My shower is very short because energy and water usage in Italy is much less than what I am used to in America. On my walk to class, I get to walk along the beautiful Arno river and admire historical spots like the Ponte Vecchio. I usually pop into one of Florence's many cafes on my way and order a cappuccino and croissant for breakfast. I order and eat this right at the bar of the cafe because it is a known custom in Italy that the menu items are cheaper when ordered this way rather than sitting down at a table. After my much needed coffee I make my way to my class.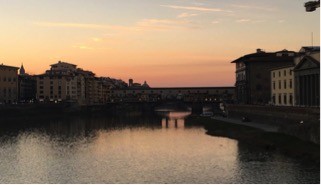 The end of my first class means it's lunchtime! Lucky for ISI students, Florence is home to many restaurants and cafes that are only a short walk, making it easy to grab lunch in between classes. A popular spot for students is called Pino's, which is about 10 minutes from Bargagli and is definitely a nice change from grabbing lunch at a dining hall. Pino's is known for his panini using fresh bread, meat, cheese, and vegetables for around 4,50 Euros. The owner speaks English well, making it easy to order here. He also hangs the flags of American universities around his shop!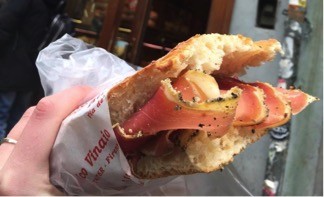 Once classes are finished for the day I do some shopping on the way home. It is January, which is sales month, so you can get amazing name brand clothes and bags for 30% and up to 70% off depending on the store. The sun sets around 5 pm, and it is the perfect time to climb up to Piazzale Michelangelo. I don't think I could ever get sick of the view from up there. You can see the entire city and watch the sunset over the hills.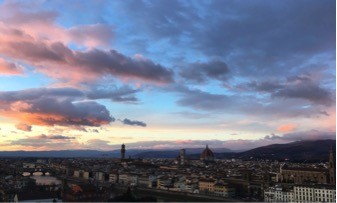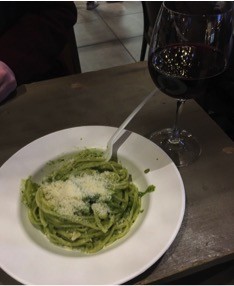 Sometimes around 8 o'clock I will go out again for dinner if I don't feel like cooking; Italians are known for their notoriously late dinnertime. One of my favorite places to go is the first floor of the Mercato Centrale. During the day, the ground floor is full of food vendors selling fresh produce, but during the night, the upper level has an open floor where I can get my favorite pastas and wine. It's great when you just want to sit down with a glass of wine and a slice of pizza to watch a soccer game.
Finally, it's time to head back to my apartment and go to bed!