The International Studies Institute is pleased to extend its enthusiasm for the forthcoming exhibition featuring a dear friend and member of ISI Florence's community, the internationally renowned artist Lolita Valderrama Savage.
The connection between ISI Florence and Valderrama has deep roots, beautifully articulated through the introduction to the exhibition catalog written by our director, Professor Stefano Baldassarri.
This exhibition, to be held at one of the most prestigious and historic museums in Florence, is being organized by the City of Florence in collaboration with the U.S. Consulate General in Florence, the Philippines Honorary General Consulate in Tuscany, and the Consular Corps of Florence. It is supported by diverse non-profit educational, cultural, and artistic organizations both in Tuscany and the USA.
The opening reception will take place on October 12, 2023, at 6 p.m. in the Sala d'Arme of Palazzo Vecchio.
The show will be open and free to the public from October 13 to November 3, 2023.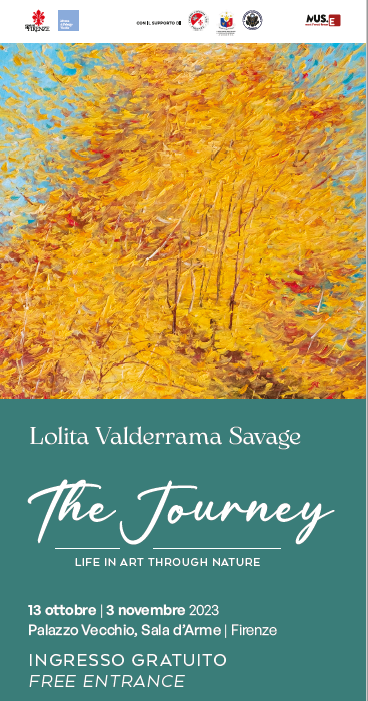 This international artist will present more than 60 mixed media artworks, all created during her more than 50-year artistic career. "The Journey…Life in Art through Nature" will celebrate the sights and scenes she captured of the many different countries where she has lived, worked, and visited, as well as honor the diversity of the people and cultures she has met along the way.
Valderrama Savage's art has served as a passport which has taken her from her birthplace in Manila, Philippines, to vibrant cities and serene countryside across Europe. For many years, she also lived in New York City and, eventually, in Stamford, where she now makes her home. She and her husband, Frank Savage, also spend part of the year in the Tuscany region of Italy, where its people and landscapes often inspire the scenes found in her drawings and paintings.
SOURCE – read the full article: Stamford Artist Celebrates A 'Life In Art Through Nature' In New International Exhibition Oct. 13 To Nov. 3