By Julia Morlino, University of Maryland – ISI Florence Spring 2022
The beautiful and historic city of Florence has an abundance to offer for those who visit: Michelangelo's masterpiece, the Statue of David, the picturesque Duomo, the art-filled church of Santa Croce, and shopping on the famous Ponte Vecchio. Yet, the true highlights of Florence are a lot smaller. They're the toy-sized cups of espresso you drink every morning to keep you energized for a day of culture absorbing, the hole-in-the-wall restaurants down narrow streets that end up being the best meal you've ever had, and the hidden piazzas that become venues for local markets if you catch them at the right time. The authentic Florentine life is like no other. Although it's inevitable for tourists not to stick out in a city that's not theirs, there are still various ways to live "la dolce vita" in Florence like a true local.
And here's how:
#1 Explore the "other side of the Arno River"
The Arno River flows directly through Florence, creating two sides of the city with bridges that connect them. One side of the river is known to be more touristy than the other and is home to several international retail stores, artistic churches, famous museums such as the Uffizi Gallery, and various scenic squares like Piazza della Signoria and Piazza della Repubblica. While these sights are still a must-see in Florence, stepping away from the tourist traps is a smart strategy for living like a local. The Oltrarno offers a calmer and more authentic atmosphere with cozy neighborhoods, antique shops, and inexpensive restaurants. Here you can see Pitti Palace, the Grand Duke of Tuscany's former residence, which houses various renaissance art museums and galleries. The Boboli Gardens, located directly behind the palace, where you can admire a collection of sculptures that date back to Roman times and the beautiful Renaissance Italian Garden layout. In the heart of Oltrarno lies Piazza Santo Spirito. Restaurants, vendors, gelato, and markets are found in the piazza, and is the perfect place for a relaxing aperitivo around its central fountain.
#2 Learn the language
While most Italians who work in or near tourist destinations know the English language, locals genuinely appreciate it when you try to speak to them in Italian. Learning Italian helps you feel even more connected with the culture, and to locals, it shows respect and interest. From personal experience, you often get a better response and better service if you try to speak the native language. Italians are also very receptive and willing to speak back in Italian, some of whom will even correct your pronunciation as a helpful gesture. It's important to remember that while you won't become fluent during the first few months visiting Florence, knowing only a handful of greetings, goodbyes, and polite words like "please" and "thank you" will go a long way in your journey to living like a local.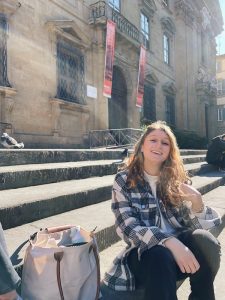 #3 Eat like a local
Food— Italy's world-renowned claim to fame. It's impossible to not immerse yourself in the Florentine food and drink culture, considering you can find restaurants, bars, cafes, and gelaterias on every street corner and city square. However, the key is knowing where to dine for the most valuable and best quality meal. Any local bar or cafe will satisfy your coffee fix in the morning. Italians opt for a light meal for breakfast, consisting of espresso or cappuccino with a sweet, carb-based pastry. It is common to finish your coffee and pastry at the counter, rather than sitting down at a table or taking it to go. It is very rare to see locals walking down the streets of Florence with a coffee in hand because they finish their drink in the midst of a conversation with the bartender!
Bustling markets are a Florentine specialty. They offer a variety of local and international food that is guaranteed to please everyone. Mercato Centrale is an Italian favorite for lunch, with vendors who sell baked products, fried food, fresh fish, meat and charcuterie, chocolate and gelato, fresh pasta, wine, truffles, and vegetarian and vegan dishes.
Besides the markets, Florence is also known for being home to the world's greatest sandwiches. Via de Neri is filled with sandwich shops and hungry locals itching to get to the front of the line. Those waiting for All'Antico Vinaio take up most of the space on this famous street, as these sandwiches are considered Florence's most legendary street eats. However, if you're in a rush and don't want to waste a beautiful day in Florence in line for a panino, there are plenty of other sandwich shops that surround the same street, and ones that I would even say are better than the hyped All'Antico Vinaio. A personal favorite, La Fettunta, is always less crowded and serves delicious sandwiches. It is incredibly underrated for the quality they offer and is sure to give you a more authentic, less-touristy panino experience.
Happy hour time in Italy, better known as aperitivo, is very popular amongst Italians. There is no better way to immerse yourself in the Florentine culture than by sitting amongst locals as the sun sets with a drink in hand and an antipasto on its way. Your beverage of choice comes with small plates to act as a light meal before you stuff your face at dinner. Some of my favorite aperitivo spots are Il Signorvino and Obica Mozzerella Bar.
If you try to call a restaurant in the afternoon to make a reservation for that night, chances are no one will pick you up. This is because most restaurants in Florence don't open until 7-7:30 pm, as dinnertime in Italy is typically between 8:30 and 9:30 pm. This is something to keep in mind when visiting, especially during the warmer months when the tourist season is in full fledge and everyone is trying to get a seat at the same restaurants. Dinner in Florence can be a lighter meal or a multicourse with primo and secondo, but I promise the multicourse will be more appealing once you realize how small the portion sizes are in Italy.
#4 Walk!
After living in Italy for about 2 months now, a 20-minute walk doesn't sound as dreadful as it used to. The city of Florence is the perfect walkable size, and the sights along the way make the stroll much more enjoyable. While there are other ways to get around the city like taxis and busses, walking is the most convenient mode of transportation in Florence. Battling traffic in busy areas of town is always stressful and paying for transportation every time you need to get somewhere is costly. Walking is additionally a great way to indulge yourself in the Florentine culture, considering locals walk everywhere and are always on the streets munching on a panini, eating gelato, talking with a friend, or shopping. It also feels nice to walk off the pasta dish you just ate for dinner!
#5 Pay attention to gelato
The greatest tip I have ever received while living in Florence is to be picky about your gelato. Although a mountain of vibrant colored gelato looks the most appealing, gelaterias that advertise their gelato like this most likely use artificial flavors. Instead of going by what's the most pleasing to the eye, you should be looking for the smaller gelaterias with fresh ingredients. The most creamy and delicious gelato is more likely to be found when its packed down and more dense, keeping the flavors more pronounced and irresistible. This is what makes the gelato in Florence so special, which is a part of the local Italian experience that you wouldn't want to miss out on.
It won't be long now before you start living like a true local in Florence and tourists are asking you where the nearest, best restaurant or museum is.
"La dolce vita" in Florence is calling your name!