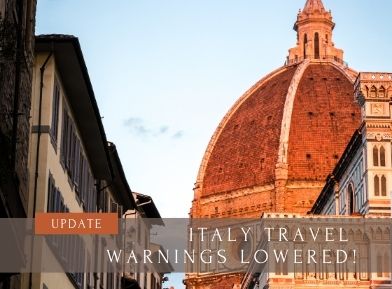 The CDC and State
Department have lowered
their Travel Advisories
for Italy to Level 3 alerts!
What does this mean for ISI Florence's Fall 2021 semester?
We believe that the lowered alert levels are yet another sign that pandemic-related restrictions will continue to lift over the coming months as infection and vaccination rates both continue to improve. Before the pandemic, Italy, alongside most countries across the globe, had a State Department Advisory Level 2, an alert level that is closely linked to CDC ratings and data.
Our team will continue to monitor the ongoing situation through updates provided by US, Italian, and EU health authorities. Should you have any questions about how our Institute is preparing to reopen in September, we welcome you to visit our reopening page or to contact us at [email protected]