The Intercultural Communication Course Blog (Prof. Christian Tarchi)
Written by: The Gryffindors Group 
Your time studying abroad will go by so much faster than you would expect. Make sure to make the most of your time and check out these top 5 places to get the best views of Florence.
Piazzale Michelangelo
If you are looking for one of the best panoramic views of Florence, Piazzale Michelangelo is the place to go. It is a common spot for both locals and tourists, as you can see everything, from the Arno to the Duomo, and beyond. This spot is most popular around sunset, although you can count on it being crowded at most other times of the day as well. The climb is not as steep as some of the others, so it is great to grab an ice-cream and relax!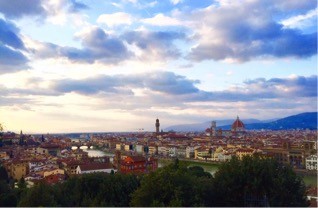 Top of the Boboli Gardens
A step-away from Ponte Vecchio you will find the Boboli Gardens. Although a pretty steep climb, the view of the city from the top of the gardens is incredible. You can see the city center across the Arno, the top of the Duomo, and the Apennine Mountains on the outskirts of Florence. Pick a warm day and spend an hour or two roaming around and seeing all of the views it has to offer!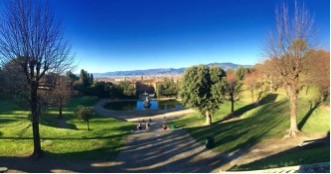 View from Bridge Across the Ponte Vecchio
This bridge leads the way from the more local side of Florence to the more visited side. For example straight down the road from the bridge is the Duomo, Piazza della Repubblica and the Palazzo Vecchio. Along the bridge you will see many local shops selling the finest jewellery in Florence. On the bridge itself there is a statue of Benvenuto Cellini and around it you will see a fence covered in padlocks. Not to forget the breathtaking view of the Arno River, for which the bridge overlies. Furthermore, the bridge is a magnificent view at night with the lights glistening from the distance.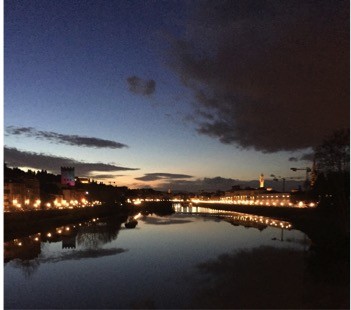 Outside the windows of the Uffizi Museum
This may seem a little bit random compared to the other four views, as this one isn't climbing up any stairs, but it is still a must-see. Chances are that during your stay in Florence you will be visiting the Uffizi Museum. If you are on the second floor in the main hallway all you have to do is walk straight down towards the Botticelli sign and to your right you will find an open area with windows. Outside of the window you can see the view of the Duomo. If you keep walking down the hallway you will find another window where you can see the Arno. You won't miss it, the windows are constantly crowded with people taking pictures.
Caffe La Terrazza
If you find yourself looking for a great view and an equally great drink, make your way to Piazza della Repubblica. Located at the top of the of La Rinascente, this caffe overlooks the entire city including the duomo, charming carousel and arch of the Repubblica square.