Florence, July 2022 – ISI Florence is a proud sponsor of The Florence Review, new literary venture by former ISI professors Alessandro Raveggi, co-editor, and Diego Bertelli, along with managing director Giovanni Gentile and co-editor Martino Baldi. The Florentine biannual magazine, published by Le Lettere, is a collection of stories and poems, in both Italian and English (parallel text) written by up-and-coming and published writers, who create and nurture the Florentine and Italian cultural scene and melting pot.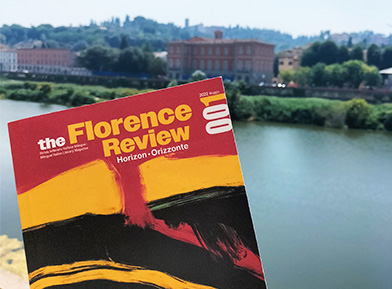 The Florence Review marks the continuation from The FLR, conceived and directed by Alessandro Raveggi, and also sponsored by ISI Florence since its first edition in 2016. Under the new publishing house, Le Lettere, ISI Florence has high hopes that the Florentine literary magazine will manage to withstand the modern paradigm of fast, consumer culture, and continue to provide us all with enticing and thought-provoking readings.
Issue 001 – May 2022 | Horizon ° Orizzonte
In its first print, The Florence Review looks at our horizons, "an ambivalent word in itself, too abstract at times. Although its etymology merely links to the outline of a circle, it suggests both an outlook on the future and a broader view of our present, embracing new forms of symbiosis to cure the ills of our time". (cit. Introduction p.6, Alessandro Raveggi, Martino Baldi).