The Intercultural Communication Course Blog (Prof. Christian Tarchi).
Written by: Kaitlyn Bradley (Penn State),  Angelina Carfagno (Rutgers University), Jamie Dolce (UConn), Amanda Jones (UConn) 
The next best thing from a phone call to home is a visit from home. For those of you who are making lists of places to visit when family or friends come to Florence then keep reading. This blog's for you!
There are plenty of tourist hot-spots like the Duomo, museums, and of course Mr. David. There are also markets, pubs, and restaurants that resemble the true Florentine lifestyle.
Sant'Ambrogio Market: Piazza Sant'Ambrogio
Directions to Sant' Ambrogio Market (estimated 12 minute walk from the Duomo)
Now entering a world that is borderline magical, Florentine venders line the outskirts of the market selling fruits, vegetables, jewellery, and clothes of all shapes and sizes. Here, you will need Euros and we suggest a small understanding of Italian if you choose to barter. Inside, you will be introduced to a new way of food shopping. Everything is as fresh as can be. Venders vary from nuts and seeds to spices, bakeries, and an unbelievably wide spectrum of meats. If you choose to bring your family or friends, this is a fun exposure to a new way of cooking and eating.
Hints
You may have to pay to use the restroom.
Kilograms to pounds: Kg x 2.2 (or you can state how much you would like to pay and they will give you how much that would be worth; ex. 3 Euros worth of fresh ravioli).
Bring cash.
Don't be afraid to speak Italian. No matter how little you know, they will appreciate it. Or it will be a good laugh.
La Specola Museum: The Museum of Zoology and Natural History
Via Romana, 17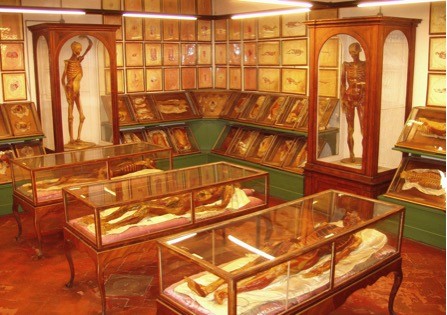 This museum spikes interest for those who are looking to experience art in a different way. Located next to the Pitti Palace, it's  easy to miss. Once inside, though, the adventure begins in the oldest science museum in Europe. From freakishly accurate anatomical wax models of humans to a stuffed hippopotamus (believed to have been a pet that once roamed the Medici palace), it is the place to be for family and friends who would prefer to skip long lines at more popular museums but still receive an enriching experience. The museum is divided into eight separate sections, so there is a bit of something for everyone. The catch is that each section is located in a different part of Florence. The sections are as follows: Anthropology and Ethnology, Biomedicine, Botany, Chemistry, Geology and Palaeontology, Mineralogy, Botanical Garden, Zoology. The museum is open from 9:00 am to 5:00 pm on Monday-Friday and open on Saturday from 9:00 am to 1:00 pm.
Hint
Entrance is small and not crowded. You may pass it a few times before realizing you have arrived!
Book Pub
Piazza Lorenzo Ghiberti, 11R
For friends or family members who enjoy German beers, books, darts, coloring and good company, then this is a place to sit back and enjoy a drink. It opened only two years ago and the owner, Duccio, is a warm and welcoming Italian that enjoys the company of others who appreciate the small things in life.
Il Pizzaiuolo
Via de' Macci, 113
The. Best. Pizza. Both affordable and delicious, they also have quite an extensive list of pastas and meat dishes. However, they are experts in making pizzas and highly recommend their margherita. Another benefit is that it is very close to the Sant' Ambrogio Market, the Book Pub as well as a theatre.
Hint
They do charge a table napkin fee – 2 Euros.
Trattoria dei 13 Gobbi
Via del Porcellana, 9
If you want an authentic Italian meal where all of the locals go to eat, Trattoria dei 13 Gobbi is the place! Tucked away in a little alleyway, this restaurant is full of life and customers, all eager to taste their delicious pasta, pizza, and steak. The walls are covered with wine bottles and history, and the staff is welcoming and eager to help you find the best meal on the menu.
Hint
Get their house wine and anything on the menu in red (i.e. the rigatoni and the chocolate cake…both are to DIE for).
Pane Amore e Fantasia
Via de' Macci, 65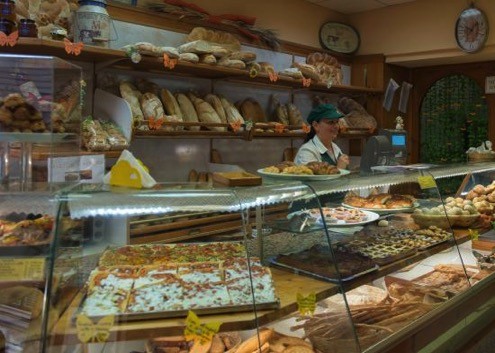 If you're looking for a real Italian bakery with delicious pastries, breads, and more you should check out "Pane Amore e Fanstasia". This means bread, love and dreams in English and, believe me, that's exactly what this place is! When you walk in you can immediately smell the delicious breads and pastries baking away. The owner and his wife speak very little English so I just asked them to give me their favorite pastry and it definitely didn't disappoint. I had a croissant with a delicious filling. I recommend this place to anyone that is looking to get off the normal tourist path. It is a few streets behind Santa Croce and definitely will satisfy your Florence sweet tooth!