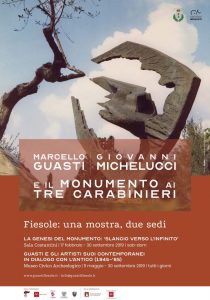 On September 20, 2019, Professor Silvia Catitti, architectural historian (ISI Florence Faculty – The Villa & The Garden and Architecture in Italy: History & Preservation courses), gave a lecture at the Public Library of Fiesole, a historic hilltop village northeast of Florence. She illustrated her recent research about a virtually unknown design by Giovanni Michelucci, one of the key-figures of Italian architecture of the twentieth century.
Michelucci used to provide the Municipality of Fiesole with advice on urban and architectural design free of charge. In 1964, the local administration asked him to hold a contest for a public monument, and to redesign the existing WWI Memorial, a formal garden created in the Fascist era (1924), a little off the main path. Since then, the reconceived site gives permanent recognition to the sacrifice of three twenty-year-old Carabinieri (Italian police), killed in the Summer of 1944 by the Nazi troops in occupied Fiesole. The three received a gold medal of honor, for having saved ten local civilians. The bronze Monument of abstract art in their honor, created by Florentine artist Marcello Guasti, together with Michelucci's new panoramic terrace and landscaping of the old park, were groundbreaking. They still have the power to speak both to the occasional visitor, who becomes aware of the story, and to the institutional audience.
The lecture was included in the series of initiatives related to the exhibition Marcello Guasti, Giovanni Michelucci and the Monument to the Three Carabinieri (Fiesole, February 17 – September 30, 2019) curated by Jonathan Nelson, for which Professor Catitti designed and coordinated the installation.