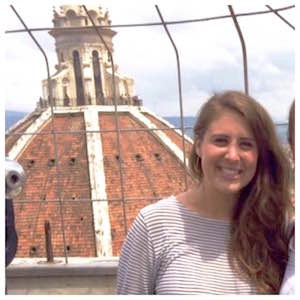 Four years ago I had the amazing opportunity to study abroad in Florence, and I have never been the same since. I had yearned to go back since the day I left, and was able to live vicariously through friends who visited over the years. Finally, it was my time to return. I was to be coming back with a friend, who of course suggested I would be our "tour guide."
Much to my surprise, as soon as I stepped off the train and started walking down the streets of Florence, I instantly felt like I knew where I was going. Memories, Italian words, and professors' tips flooded my thoughts. I suggested that we climb the Bell Tower, rather than the Duomo, because Simon Young (my History of Florence professor) had long ago told our class to do so, as "Florence is not Florence without its Duomo." I went back to my favorite "gelateria", Gelateria dei Neri, because Christina Infantino (ISI Florence Coordinator for Student Services) had suggested it on one of my first days abroad. I told my friend about the fresco paintings that cover the walls of Florence and how I, too, had painted these in Tiziano Lucchesi's art class. I began speaking Italian that I had no idea I still knew. I used words such as "prego" and "certo" that David Marini (my Italian teacher) had repeated 100 times a class and had as a result ingrained in our minds. I even had a conversation entirely in (my broken) Italian with the waiter who happened to be the cook of my favorite chocolate cake at the restaurant around the corner from my Florentine apartment.
I knew that my time abroad had had a lasting effect on me. I knew I had taken home memories of wonderful people, places, food, and new experiences. However, what I didn't know was that a place that I once called my home long ago, could again feel so familiar in a heartbeat. And that, I owe to the wonderful staff at ISI Florence, who took the time to really allow us to get to know the city, who made the effort to make Florence feel not just like a place we lived, but feel like our home too, and who made sure that even years later, I was welcome at their school and in their city.
Carly Scheiner, Spring 2012, Penn State Alumna